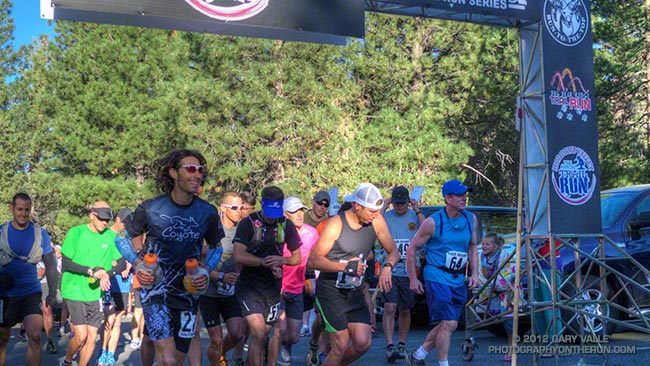 When a race changes organizers sometimes you're just not sure what you're going to get. No worries! It seemed Tom Spiegel and Team Big Bear made every effort to maintain the quality and character of an event that for 15 years was superbly organized by Gary & Pam Kalina.
Although the temperature recorded at Fawnskin was several degrees warmer than last year the temperature on the course was cooler. Jorge Pacheco took advantage of the nearly ideal conditions and flew through the 33 mile course in a record time of 4:11:19!
Of the 118 runners that started the 33 mile this year 93 finished. Half the runners ran faster than the median time of 7:21:32 and half slower. The times for the middle third of the runners ranged from about 6:50 to 8:00.
Here's an interactive Google Earth flyover of the Holcomb Valley 33 Mile Run that can be viewed in most browsers. (Google Earth plugin required.) Distances specified are based on my GPS traces from the past three years, and were calculated in SportTracks. Distances and placemark locations should be considered approximate. Here's an elevation profile of the course.
Only the event director and core group of volunteers really know how much work goes into putting on an event. There are innumerable tasks that have to be coordinated and completed, and myriad (usually) minor problems that have to be resolved. The works starts months in advance of the event, and may not end for weeks after the event. The reward is in the smiles of the participants and knowing you have done the best job possible. Thank you Pam & Gary Kalina for organizing the Holcomb Valley Trail Runs for so many years.
Some related posts: Holcomb Valley 33 Mile Trail Run 2011, Holcomb Valley 33 Mile Trail Run 2010
Following are a few photos from this year's run.
| | | |
| --- | --- | --- |
| Cougar Crest View | Road Running | Horse Ranch |
| Leaving Aid #2 | Talus on the PCT | Belleville |