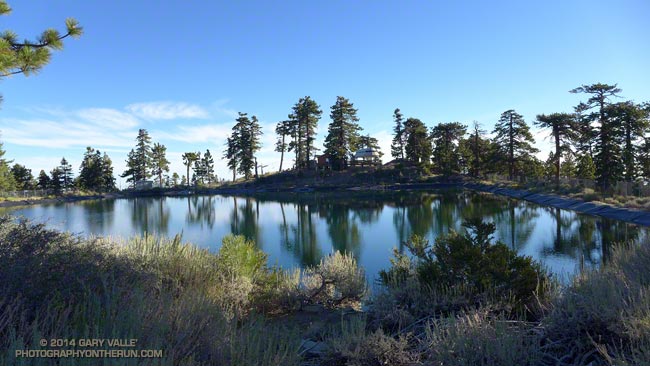 At an elevation of nearly 7400′ Inspiration Point is one of the most exhilarating places in the San Gabriel Mountains to start a trail run. Here the Pacific Crest Trail follows along Blue Ridge, an exceptionally scenic ridge with views of the range's tallest mountains and deepest canyons.
Today I was looking to do something at higher altitude and it occurred to me that I could run east on the PCT from Inspiration Point  and add a bit of adventure by ascending Mt. Baldy's North Devil's Backbone to the Pine Mountain Juniper. I'd first noticed this old tree on a climb of the North Devil's Backbone in 2006. In 2010 I hiked and ran over the top of Mt. Baldy from Manker Flat and measured the girth of the tree. It's rocky, ridgetop location and relatively arid environment might have significantly slowed its growth and it could be older than the 800 years or so its size suggests.
Even though it was Labor Day weekend, and the weather was perfect, no one was on the North Devil's Backbone trail.
Here are a few photos from the run.
Some related posts: Pine Mountain Juniper, Lightning Tree, Mt. Baldy North Backbone Trail, North Backbone Trail Revisited, Mt. Baldy Run Over the Top