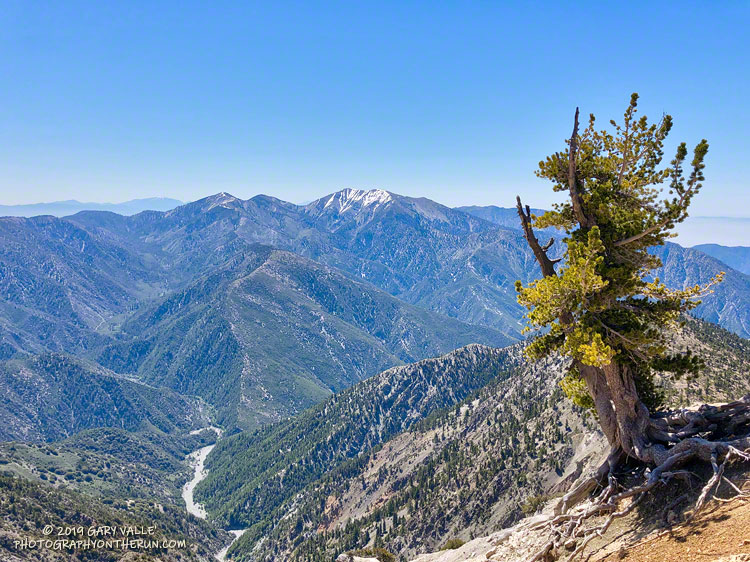 Each year, around Memorial Day, I like to do the out and back on the Pacific Crest Trail from Islip Saddle to Mt. Baden-Powell. It's fun to see how much snow (if any) remains on Mt. Baden-Powell and to get an idea of how much snow there is on Mt. Baldy, San Jacinto Peak and San Gorgonio Mountain. It's also a good way to continue acclimating to higher elevation.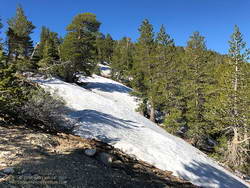 This year I was a couple of weeks late getting to Baden-Powell, having done runs on Mt. Wilson Memorial Day weekend and Mt. Waterman the weekend after. That's OK, over much of the holiday weekend it was cold and snowy at the higher elevations of the local mountains. The temperature at the Big Pine RAWS (6964′) was in the thirties all day Sunday, May 26, and it was certainly much colder than that at 9400′ on Baden-Powell.
There were no worries about snow flurries and cold weather today! The weather was perfect for the run. Cool in the shade and warm in the sun.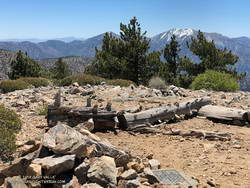 In some places between Throop Peak and Baden-Powell, there was still snow on the trail, but it could be avoided by moving to the sunny side of the crest. The last time there was more snow here in late May – early June was in 2010.
Perhaps because of the more seasonable weather, there were many (mostly) happy people on the trail that, like me, were thoroughly enjoying the wonderful day.
Related post: A Cool and Breezy Out and Back Trail Run from Islip Saddle to Mt. Baden-Powell