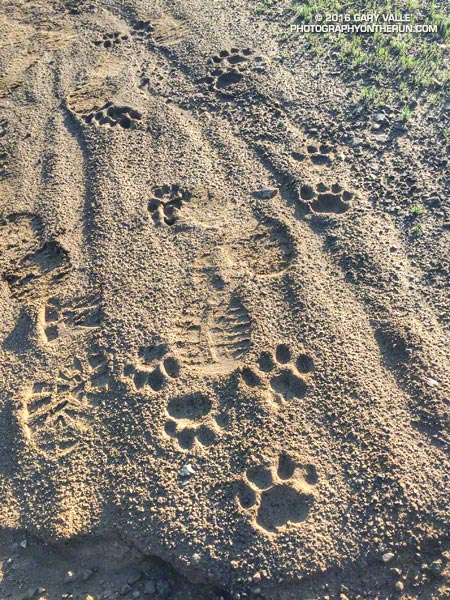 Like dust reveals a sunbeam, rain reveals the presence of our elusive Santa Monica Mountains mountain lions.
I first noticed the tracks on Temescal Ridge Fire Road #30 more than a half-mile below the Hub (running from the end of Reseda) and then followed them past the Hub on Fire Road #30 to its junction with the Backbone Trail. After a short detour up Temescal Peak (no tracks), I returned to Fire Road #30 and followed the lion's tracks back to the Hub, then down Eagle Springs Fire Road to Eagle Springs and past the fire road's junction with the Musch Trail.
It looked like the tracks were made sometime between yesterday evening, after the rain, and early this morning.
The total distance I was able to follow the tracks was around three miles. Although I had to turn around a little past the Musch Trail, I'd guess the lion was headed down to Trippet Ranch.
Some related posts: Mountain Lion Tracks on Rocky Peak Road, Mountain Lion Saga