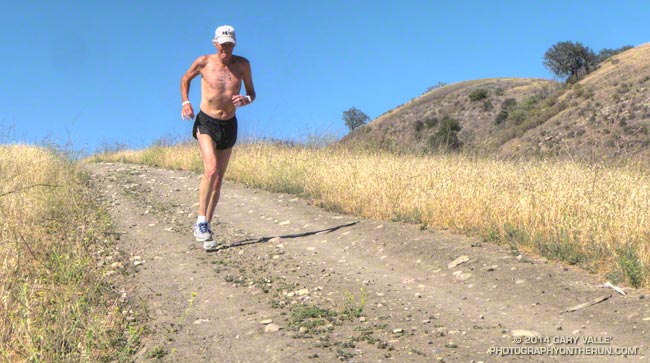 Jon running at Ahmanson Ranch on day 16,446 of his 45+ year running streak.
Earlier this week, to the cheers of runners on the Notre Dame High School Cross Country team he coaches, Jon Sutherland broke Mark Covert's U.S. record for the most days run consecutively. Jon's run on Tuesday increased his daily run tally to 16,438 days — and counting.
It's the "and counting" part that's key. Jon has run on days of major earthquakes, record-setting rain and heat, national catastrophe and personal tragedy. He's run through two knee operations, various strains, sprains and ills and several fractures — including a hip avulsion fracture.
Today Jon hosted a "Running Rocks!" fun run/walk/hike at Ahmanson Ranch to thank all the people that have been part of his running life. During the celebration Councilmember Tom LaBonge (District 4) presented Jon with a Certificate of Accomplishment on behalf of the City of Los Angeles. Below are a few photos from the get-together.
Jon says he sees no stop sign, and plans to continue running every day. You can check his current count of consecutive days run on the U.S.A. Active Running Streak List.
| | | |
| --- | --- | --- |
| Certificate Presentation | Jon & Councilmember Tom LaBonge | Running Rocks! T-Shirt |
| Jon & Runners | Start of the Fun Run | Fun Run at Ahmanson Ranch |
Also see: Melissa Block's Interview (NPR: All Things Considered), Eric Sondheimer's article (Los Angeles Times), Lenny Bernstein's article (Washington Post), Scott Douglas' article (Runner's World Running Times)
Related post: Jon Sutherland's 40 Year Running Streak