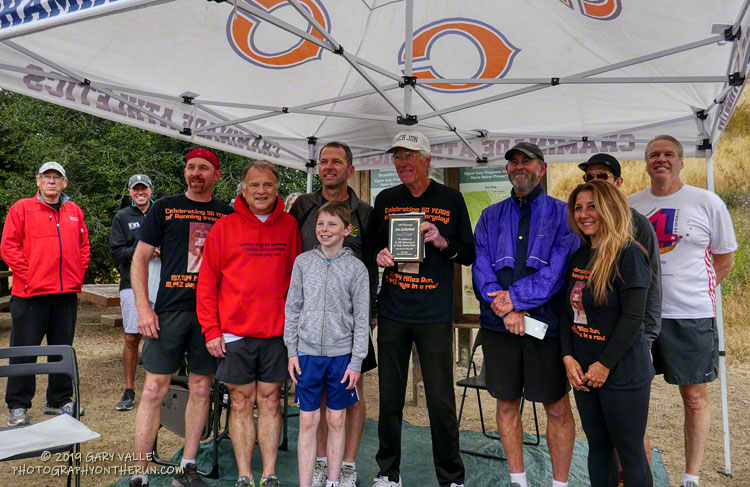 The morning was overcast and — remarkably — there was a 70% chance of rain. An eclectic group of runners was gathered at the Victory Trailhead of Ahmanson Ranch to celebrate Jon Sutherland's run streak of 18,263 days.
Included in the group were Chaminade and Notre Dame High School athletes Jon has coached, a four-time Olympian, an NCAA Division II Men's Cross Country Champion, CSUN hall-of-fame teammates, members of the United States Running Streak Association, and many, many of Jon's good friends.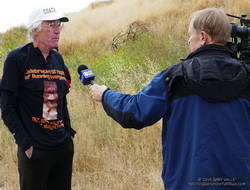 Jon Sutherland is #1 on the U.S.A. Active Running Streak List and has the longest active streak in the world. Running every day is tough. Heck, it's tough enough to brush your teeth every day and that only takes a couple of minutes. Jon has run through strains & pains, illness, injury and tragedy. He's maintained his streak through two knee operations, hernia surgery, and several fractures.
Except for a few rogue sprinkles, the rain held off for most of the morning. Following a short run up to Lasky Mesa, the group reassembled at the trailhead to recognize Jon's accomplishments.
Olympic medalist and long-time friend Rod Dixon presented Jon with a signed print of a superb oil painting by Tom Ogiela of Herb Elliott's world record-setting gold medal finish in the 1500m in the 1960 Rome Olympics.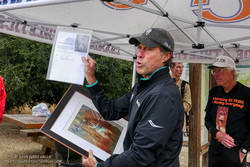 Mark Washburne, President of the United States Running Streak Association, then presented Jon with a commemorative plaque and a lifetime membership in the association.
Then it was Jon's turn. Story-telling is an art at which Jon excels. His poignant story was about the painting of Herb Elliott.
Tom Ogiela, a Sutherland-family friend, was only thirteen when he did the painting. Jon told him, "that one day I would become a good enough runner and Herb Elliott would see his painting."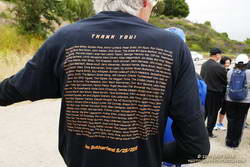 Tragically, Tom was killed as a result of a construction accident at age 20. With the help of Rod, Jon was able to fulfill his vow to the young artist. Herb Elliott did indeed see the painting and the print presented to Jon was signed by the Gold Medalist. The full story is in the Summer 2019 edition of The Streak Registry on the United States Running Streak Association Home page.
Jon wrapped up the event by thanking his family and friends and all those that have helped him along the way.
Congrats Jon! And we all look forward to being back at Ahmanson on July 4, 2021, when your run streak reaches 19033 days and becomes the longest on record.