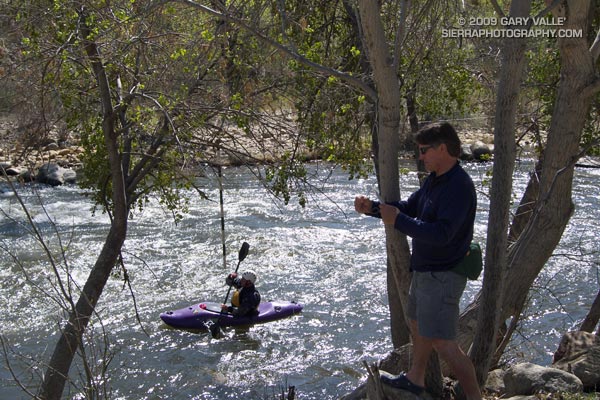 Bob and Joe Setting a Slalom Course at Riverside Park
Thanks to Bob, Joe, Tom and Smiley for another great GMC. As always, the paddling instruction was exceptional.
Training sessions were held on the Upper Kern River at Riverside Park in Kernville, and on the Lower Kern at the Miracle Hot Springs Slalom Course. Instruction ranged from fundamental skills to advanced techniques — all of which can be applied to paddling whitewater rivers, freetyle boating, or slalom racing.
Here are a few pics:
Getting ready to start the morning paddling session at Riverside Park.
Former Olympic Team Coach Bob Campbell and the slalom group watch Olympic Gold Medalist Joe Jacobi demo a slalom course in Riverside Park.
Joe Jacobi explains the intricacies of paddling a series of gates on the slalom course at Riverside Park.
Smiley — former National Slalom Team member Anne (Mitchell) Long — keeping warm on day 2. It was windy and cool, but not bad in the water!
Drying wet gear at the host motel, the Kern Lodge.
If you're curious about slalom, or whitewater boating, the 2009 Kern River Festival is April 18-19 at Kernville's Riverside Park. The Festival will feature two days of non-stop action with a steep creek race on Saturday, and a downriver race and the T.J. Slalom Race Sunday. It looks like the weather and water should be great!
Related link and post: Gold Medal Connections, Whitewater Slalom Racing