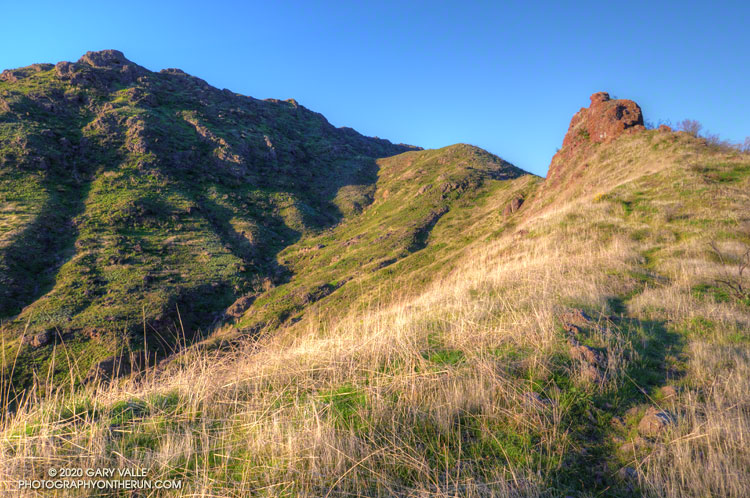 In January, on my way to do a run on the Backbone Trail, I stopped for a moment along Kanan Road to see if the ridges on the east side of Ladyface peak were still accessible. I didn't see any obvious access issues and made a mental note to get back and do the peak soon.
"Soon" turned out to be earlier this February. While the route and the climbing were about the same as the last time I did the Ladyface Loop, the mountain itself had changed dramatically.
Nearly all of the chaparral on the peak was incinerated by the Woolsey Fire. Compare the title photo above to this photo taken before the fire. Before the Woolsey Fire, the last time Ladyface was burned in a wildfire was in the October 1982 Dayton Canyon Fire — a span of 37 years.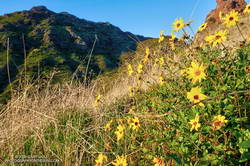 Like other areas burned in the Woolsey Fire, Ladyface is recovering. It will just take time. December's rains have turned the mountain green, laurel sumac and other chaparral plants are crown-sprouting, and the season's first wildflowers are blooming along the sun-warmed ridges.
For those with appropriate skills and experience, Ladyface is a relatively straightforward and enjoyable climb. But some of the things that make it interesting are the very things that can make it sketchy.
Some climbing with the hands is necessary — and that includes going down the mountain as well as going up. The route-finding isn't always obvious, and the rock isn't always sound. The volcanic rock is sharp, and some sections of the trail on the east/southeast ridge are very slippery — especially if wearing smooth-soled shoes.
Below are a couple of photos of the east/southeast ridge.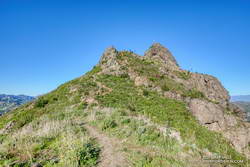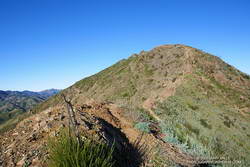 The loop packs a lot of adventure into its 2.5 miles!
Some related posts: Ladyface Loop, Ladyface the Long Way