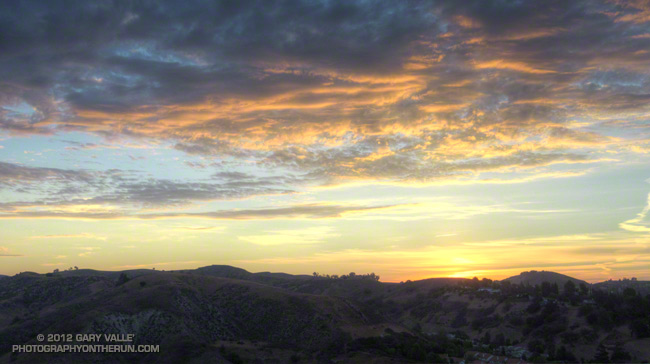 The trail was exposed and sweat was dripping from the brim of my cap like a faucet with a worn out washer. Expecting a warm day I had started my run early — before sunrise — but that had not been early enough. It was 8:30 am and the temperature was already over 90°F. It was not only hot, it was humid. Monsoon clouds were scattered across the sky, but somehow the sun was dodging all of them. It was disturbingly familiar.
Even if the weather wasn't perfect, the run was a good one. I was doing a loop from the Las Virgenes Trailhead of Upper Las Virgenes Canyon Open Space Preserve. There are two trails here — the main trail which follows Las Virgenes Creek north up the canyon, and a power line service road (about 50 yards south of the first) that climbs out of Las Virgenes Canyon and leads west to the Cheeseboro Ridge Trail.

I had taken the power line service road, and worked west over to the Cheeseboro Canyon trailhead, then up the Modelo Trail and over to Palo Comado Canyon. Now I was a couple of miles up-canyon on an unmaintained, but well-used, single track trail that links the Palo Comado fire road with the Sheep Corral Trail. Once on the Sheep Corral Trail I could follow it east past Shepherds' Flat all the way back to Las Virgenes Canyon.
There would be some relief from the heat once I reached Las Virgenes Canyon, but this was really a run better done on a cool day. On the calendar Autumn was just days away. Southern California or not, eventually the weather would cool. The development of a weak to moderate El Nino had stalled, but nearly all forecasts indicated further development was imminent. Maybe a little rain wasn't too many weeks away.
With an elevation gain of only 1800′ over 14 miles this route includes long stretches of faster-paced trail — both single track and dirt road — but there are some good hills as well. Many variations are possible. This Park Service PDF shows the trails in the area.
Some related posts: Upper Las Virgenes Canyon – Cheeseboro Ridge Loop, Owl Feather on the Modelo Trail, Las Virgenes Creek Near the Sheep Corral Trail