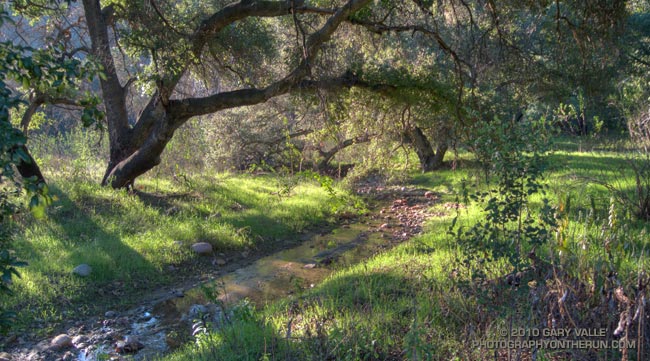 At the start of my run East Las Virgenes Canyon was deep in shadow, and it was cold, cold, cold. At least by Southern California standards. But it would be warm enough, soon enough, and being a little chilly now would make the sun feel even better when I escaped from the canyon. The good news was the temperature was near freezing, and the muddy sections of dirt road in the canyon were mostly frozen.
I was doing a run I often do before a race, or when I want to back off the distance and elevation gain a bit — a 13 mile route from the Victory trailhead at Ahmanson Ranch, through Cheeseboro Canyon. The route starts the same as the run to Simi Peak, but when you get to Shepherds Flat, you turn left (south) down Cheeseboro Canyon.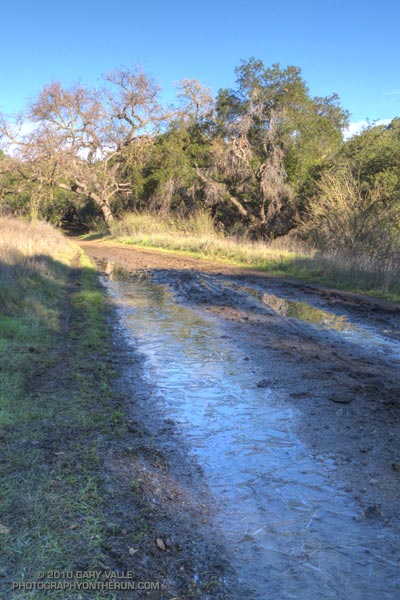 Picking up the pace to try and generate some warmth, it took about 30 minutes to get to Las Virgenes Canyon. In another 15 minutes or so, I had forked left off the dirt road onto the Sheep Corral Trail. This singletrack trail meanders through live oaks along upper Las Virgenes Creek before working up and over to Shepherds Flat.
For the first time in several years, this part of Las Virgenes Creek was flowing. The last time it had more than puddles of water was during the record setting El Nino rain season of 2004-2005. That year Downtown Los Angeles recorded more than twice it's normal amount of rainfall.
At the six mile point I reached the junction at Shepherds Flat and turned onto the Sulfur Springs Trail. With the exception of one very wet section, Cheeseboro Canyon was mostly in good shape. There was still some ice on the mud puddles in the lower part of the canyon.
Keeping my shoes mostly dry and mud free had become kind of a game, but a game I was destined to lose. When mud thaws it becomes incredibly sticky, and that happened on the connector that links Cheeseboro Canyon to Las Virgenes Canyon. It was like running in 5 lb. Hokas.
The worst of the unavoidable mud ended at Las Virgenes Canyon, and after another 30 minutes or so of dodging mud puddles, I was back at the Victory trailhead. It was a fun run and a great way to start the New Year.