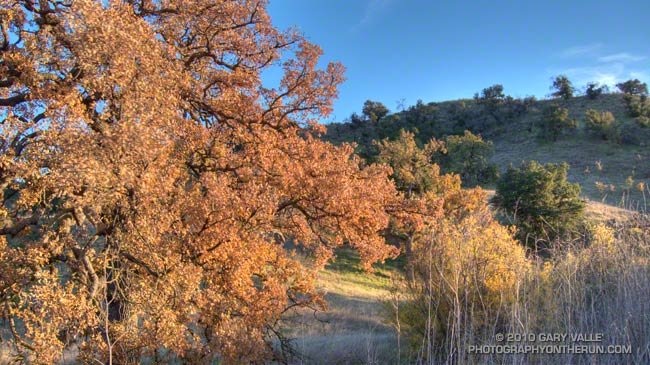 It's that time of year. Willows and wild walnut trees are showing some Fall color, and the valley oaks are losing their leaves. Even on a warm day, the long shadows, clear skies and low humidity of late Autumn cool the hillsides, generating chilled katabatic flows down gullies and canyons.
As temperatures warmed up this week I took a probe thermometer on my afternoon trail runs at Ahmanson Ranch (Upper Las Virgenes Canyon Open Space Preserve) and measured the temperature of some of these invisible streams.
My general weather data reference for the area is the Cheeseboro Remote Automated Weather Station (RAWS). The high temperature at the Cheeseboro RAWS ranged from 73°F on Tuesday to 75°F Thursday. The temperature in the shade at the Victory trailhead parking lot at the beginning of my runs (around 4:00-4:15) was about 70°F.
Tuesday, the temperature on the road about 1.1 miles from the parking lot, and above East Las Virgenes Canyon was about 69°F. A quarter-mile away, down in the dry streambed, the temperature was a chilly 47°F — a drop of 22°F.
Wednesday, I ran to upper Las Virgenes Canyon. The temperature at a saddle above the canyon was 66°F. Down in the canyon near one of the stream crossings, the temperature was 45°F — a difference of 21°F.
Thursday I ran back to the same point in Las Virgenes Canyon. Even though the high temperature for the day was about the same as Wednesday, the humidity was higher, and there were some high clouds. The katabatic flow was not as well-defined, and the temperature drop was only about 13°F.
Conditions during the week were not especially favorable for hillside radiational cooling, and I expect temperature differences of 30°F might be possible in ideal circumstances. In any case it feels like that in running shorts and a short-sleeve shirt.