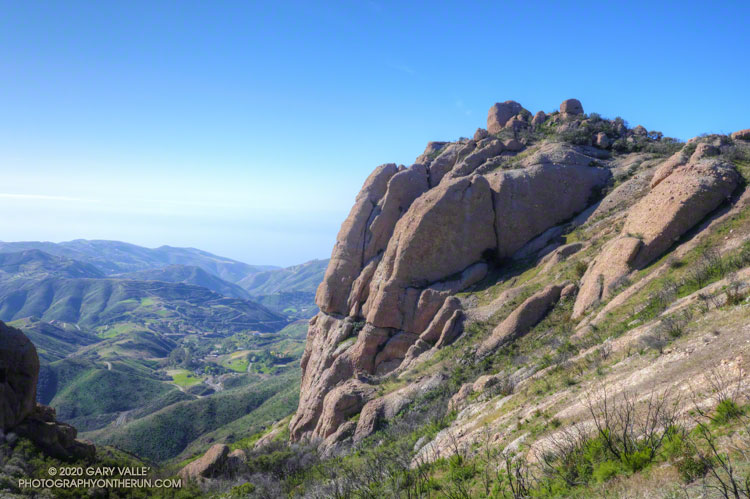 Along with Sandstone Peak, Tri Peaks, and Exchange Peak, Boney Peak is an officially named peak that is part of the Boney Mountain massif. The peak is located about 0.5 mile southwest of Sandstone Peak and is easily accessed from the Backbone Trail.
I'd climbed the other peaks in the area, and run past Boney Peak many times, but never scrambled to its summit. Getting to Boney Peak from the Wendy Drive trailhead was pretty much the same as doing Sandstone Peak. I took the "escalator" up the Western Ridge of Boney Mountain to Peak 2935 and then ran over to Tri Peaks. From there, I followed the Tri Peaks Trail to the Backbone Trail, near the Mishe Mokwa Trail junction.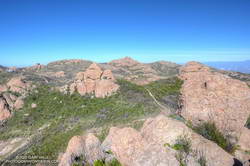 The use trail to the top of Boney Peak leaves the Backbone Trail about a mile from the Tri Peaks/Mishe Mokwa Trail junctions. Other than a little brush, it's fairly easy to get to the peak's boulder-strewn summit. There was a red register can stashed in the rocks. (The title photo of Boney Peak was taken where the use trail begins.)
The actual high point of the peak is atop, a large, exposed summit block. Various trip reports describe the easiest route up the summit block as class 3. That seems about right. Although relatively straightforward, the use of handholds is necessary, and a fall would ruin your whole day. Like many such boulders, it is easier to climb up than to climb down, and someone without rock climbing experience could easily find themselves unable or unwilling to climb down.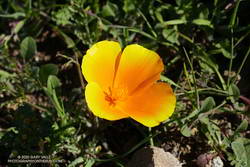 From Boney Peak, I returned to the Backbone Trail and headed west, down the Chamberlain Trail and on to the Danielson Multi-Use area. A few brightly-colored, yellow-orange poppies were already blooming along the trail. The rest of the run was the usual jog up Sycamore Canyon to the Upper Sycamore Trail, and then back to Satwiwa and Wendy Drive.
Here's a 3D Cesium interactive view that shows a GPS track of my route. The view can be zoomed, tilted, rotated, and panned. Placemark and track locations are approximate and subject to errors.
Some related posts: Looking for Boney Mountain, After the Woolsey Fire: Boney Mountain and Pt. Mugu State Park, Boney Mountain's Western Ridge