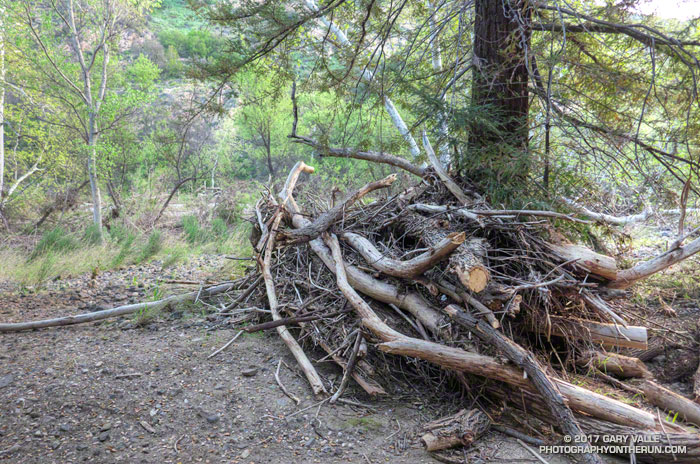 My plan had been to check on the MCSP redwoods and then do the Phantom Loop. Running along Crags Road west of Century Lake I started noticing flood debris along the trail, but it wasn't until I reached the bridge across Malibu Creek that the magnitude of the flooding became evident. Most of the bridge's wooden railings had been swept away and debris hung in the trees 10-15 feet above the creek.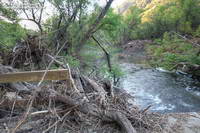 A short distance beyond the bridge, near the junction of Crags Road and the Forest Trail, a large tangle of debris was piled at the base of a redwood. Continuing toward the M*A*S*H site there were debris piles along the trail and scattered across the stream course. The flood had filled the 150′-200′ wide canyon with a torrent of water. One large debris pile in the center of the streambed was 15′-20′ above the current water level.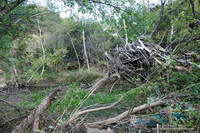 The flooding resulted from heavy rainfall associated with an atmospheric river that hit the area on February 17. Between 4:00 a.m. and midnight the Remote Automated Weather Station near Malibu Canyon Road and Piuma Road recorded 4.45 inches of rain. Runoff was increased by the soil being nearly saturated from the above average rainfall we've experienced this rain season.
Many streams in the area experienced high flows on February 17. According to provisional USGS data Sespe Creek near Fillmore peaked at 34,000 cfs at 7:45 p.m.; the Ventura River near Ventura peaked at 20,400 cfs at 5:45 p.m. and the Los Angeles River at Sepulveda Dam peaked at 16,700 cfs at 4:30 p.m.
Eventually I returned to the Forest Trail and checked on the redwoods. My impression is that the trees in trouble have continued to degrade and the trees in better condition are holding their own. I will be curious to see how much new foliage there is later in the growing season.
I never did make it to the Phantom Trail but did have a nice run over to the Tapia Spur Trail.