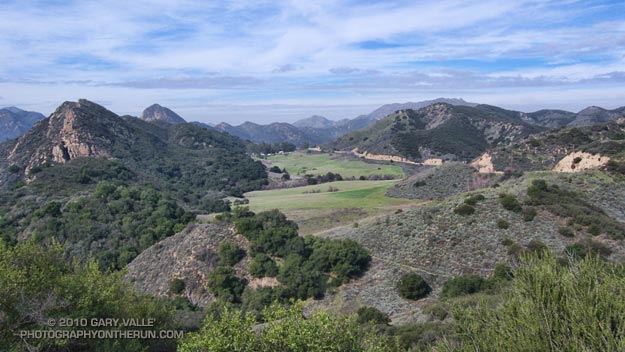 While running the Phantom Trail a couple weeks ago, it occurred to me that the Grassland, Talepop, Liberty Canyon and Phantom Trails could be combined with the Bulldog Loop to create a challenging — and very scenic — twenty-something mile trail run.
Just how much longer than twenty depends on which trails you use to connect the Phantom Trail to Crags Rd. I opted to use the Cistern, Lookout, Yearling, and Deer Leg Trails. This variation works out to a little more than 24 miles. Tack on an out and back to the Mesa Peak overlook and you have a marathon length scenic tour of Malibu Creek State Park!
Here's a Cesium browser View of a GPS trace of my route.
The title photo is a view west from the Cistern Trail to the former site of the Reagan Ranch.
Note: Check for ticks when running here — particularly in the Winter & Spring!
Related post: Malibu Creek State Park Shadow & Sun