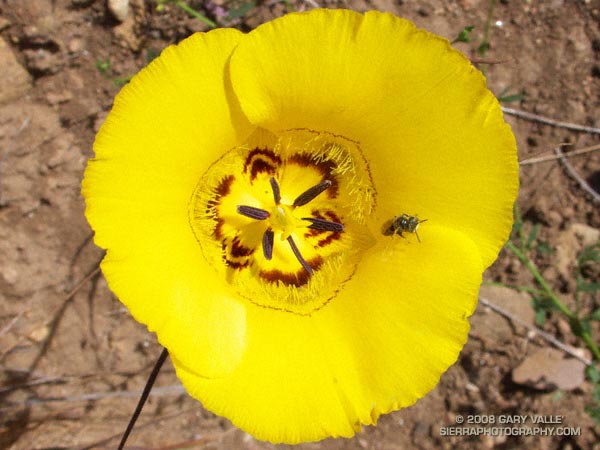 There is yellow, and then there is the YELLOW of the mariposa lily, Calochortus clavatus. Remarkable in its brightness and purity, its yellow is one of the most intense and vibrant concentrations of color I have seen in the chaparral.
It is relatively uncommon, and this is one of a few seen along trails in Rocky Peak Park, and the Simi Hills. Of the varieties listed in the Jepson Manual, this appears most similar to the slender mariposa lily (Calochortus clavatus var. gracilis).
The insect emerging from the flower is a small bee — probably a species of Perdita (Andrenidae). These bees were found on several of the mariposa blossoms along the trail. They were usually near the gland near the base of each petal, and partially hidden by the club-like hairs that gives the species its name.
From a run earlier this week in Rocky Peak Park.
Related posts: Mountain Mariposa, Plummer's Mariposa Lily
Google search: $g(mariposa lily)