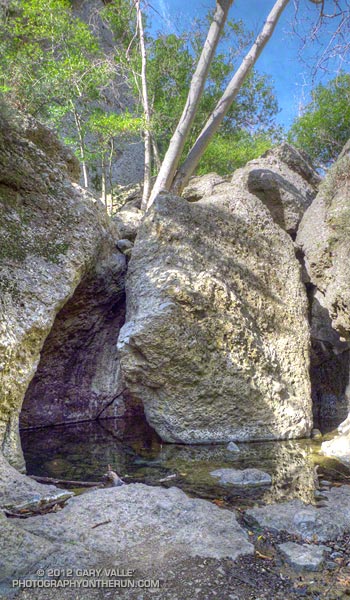 The Boney Mountain – Circle X region of the Santa Monica Mountains is one of the most appealing in the range. The grand vistas and rugged terrain are reminiscent of what you might see in some remote corner of the globe — not those a mere 20 miles from the San Fernando Valley.
It was one of those days I had a general idea of where I was going to run, but wasn't sure of the details. The details didn't matter — it was the end of January and the weather was as good as it gets for running. Whether the run turned out to be 10, 15 or 20 miles was beside the point.
The Mishe Mokwa – Sandstone Peak loop would make up part of the run. This six mile loop is one of the most scenic short trail runs in Southern California. In addition to doing this loop I was going to check out a peak at the top of the Chamberlain Trail, and then after doing Sandstone Peak, run down to the Grotto in upper Arroyo Sequit canyon.

Peak 2880 turned out to be a bushwhacking nightmare, but at least I got to run part way down the Chamberlain Trail. The run to the Grotto was excellent, and a nice addition to the loop. After doing Sandstone Peak and running down the Backbone Trail, instead of looping back around to the Mishe Mokwa trailhead, I continued down to the Sandstone Peak trailhead and picked up the Canyon View Trail. This trail more or less parallels Yerba Buena Road, and leads to the Grotto Trail, below the Circle X Ranch campground.
The title photograph is of the Grotto. Here's a National Park Service map (PDF) of the trails in the Circle X Ranch area.
Related posts: Balance Rock, Mountains and Valleys, Looking for Snow in the Santa Monica Mountains