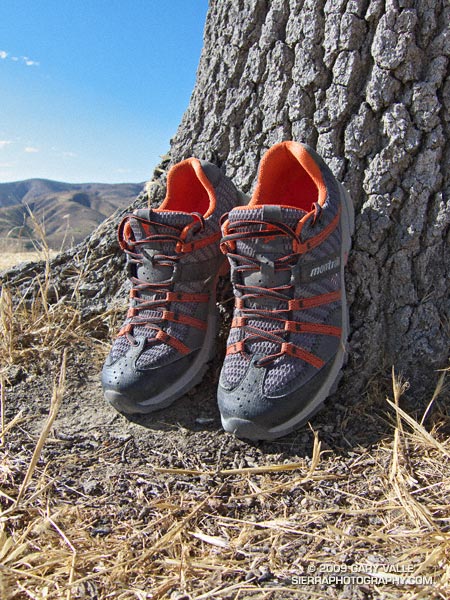 Last updated 08/05/09.
The trail shoes I've been running in the most over the last several months are the Salomon XT Wings, Salomon SpeedComp, and the adidas Response Trail 15. I've been happy with the performance of these shoes, but still like to try something new from time to time.
Recently, the cushioning on one of my pairs of XT Wings died, so I thought I'd give the Montrail Mountain Masochist a try. I've now run about 35 miles in the Mountain Masochist, on a variety of courses, including the Mt. Pinos trail run on Sunday. Trail surfaces have ranged from smooth dirt road to very rocky, technical single track trail.
From the first mile the shoes have been comfortable, and fit my moderately high-arched, D-width foot well. At 12 oz./each (US size 9.5) are on the lighter side for a medium weight shoe.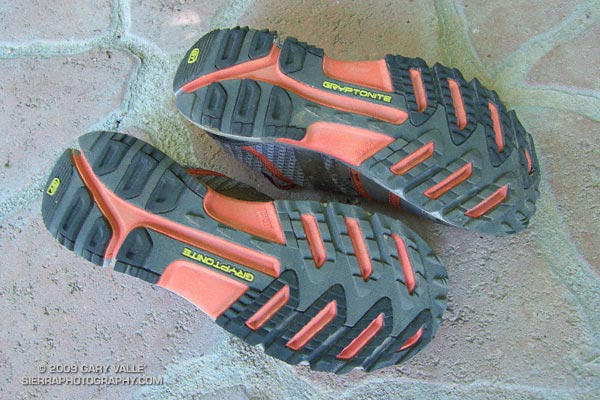 The outsole appeared to have good traction on a mix of dry surfaces without being overly aggressive and grabby. On the rocky sections of trail, the shield in the midsole did a good job of protecting against pointy rocks.
My foot likes a neutral shoe with little or no pronation control, and so far the modest amount of pronation control in the Mountain Masochist has not felt overly restrictive. (See update below.)
The shoe seems to encourage a more forward body position and foot strike, which I prefer. The forefoot cushioning is good, and the strike-to-toe transitions feel smooth. On rough trails, the shoe has been stable, and I have not noticed any abnormal tendency to roll an ankle.
Overall, the Mountain Masochist appears to be a balanced, well thought out design. I hope to get them out on a 20+ mile mountain run soon.
Update 08/05/09. I now have 81 miles on this shoe and used it on the Cottonwood – New Army Pass loop in the Sierra back in July. Overall, the shoe has performed well. I do notice the pronation control on longer runs, and would love to see a version of this shoe designed for a neutral foot.