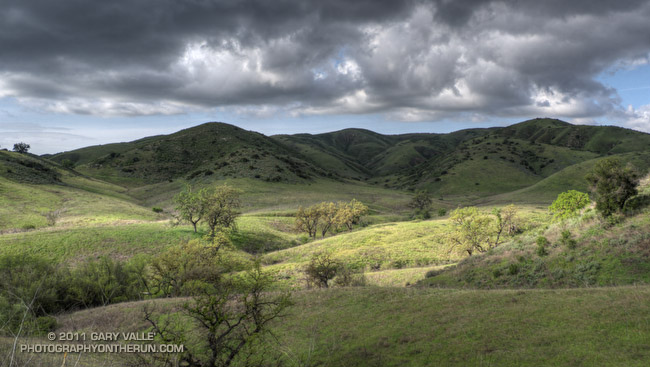 It has been a remarkable rain season in Southern California. December 2010 was the wettest December in Los Angeles in 121 years. Then Sunday, an exceptionally strong system produced record-setting rainfall in Los Angeles, Ventura, Santa Barbara, and San Luis Obispo counties with some locations recording as much as one-third of a year's normal rainfall in 24 hours!
Runners in the Los Angeles Marathon had to contend with rain, wind and cool temperatures. Of 19,763 runners, more than 10,000 were on the course for longer than 5 hours. According to a report in the Los Angeles Times sports blog, The Fabulous Forum, thousands of runners were evaluated for hypothermia, but only 25 runners were hospitalized.
Sunday evening rain rates in excess of an inch an hour were recorded in several areas, and a flash flood was reported in Woodland Hills with "mud and debris flowing down the street" and "at least four to five vehicles stuck in flowing water." Downtown Los Angeles (USC) recorded 2.42 inches of rain Sunday, breaking a record set in 1943. Santa Barbara Airport had its wettest day on record, recording 5.23 inches of rain. Here's an archived copy of the NWS Record Report for March 20, listing some of the rainfall records for the day.
Some phenomenal rainfall amounts were recorded over the course of the storm. Van Nuys recorded 6.74 inches of rainfall, Northridge 6.08 inches, Newhall 7.20 inches, Camarillo 5.58 inches, Rose Valley 10.99 inches, Montecito Hills 7.70 inches, San Marcos Pass 10.72 inches, and Gibraltar Dam 11.73 inches. Here's an archived copy of a NWS report with some rainfall and snowfall totals for the storm.
Downtown Los Angeles increased its water year rainfall total to 18.55 inches, or about 123% of normal. This makes the 2010-2011 water year the wettest in Los Angeles during a La Nina over the last 60 years, surpassing the totals recorded during the strong La Ninas of 1955-56 (99% of normal) and 1973-74 (106% of normal), and weak La Ninas of 1967-68 (110%) and 2000-01 (118%).
Update March 25, 2011. Since Tuesday, two more frontal systems have swept through Southern California,increasing the water year total at Downtown Los Angeles (USC) to 19.55 inches, or 129% of normal!
The title photograph is from a very wet and muddy run this afternoon through Upper Las Virgenes Canyon Open Space Preserve (Ahmanson Ranch), in eastern Ventura County.