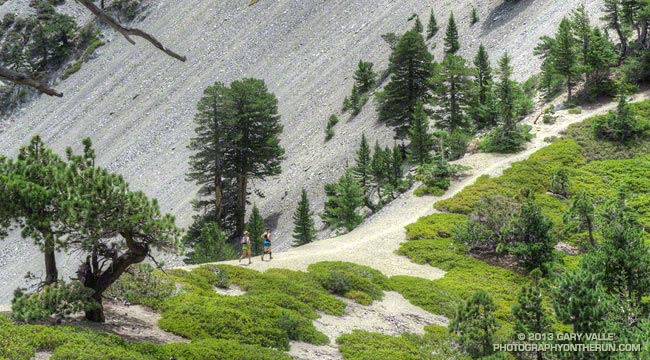 What better place to be running on a hot July day in LA than the highest point in Los Angeles County — Mt. Baldy! Last Saturday I'd done the Ski Hut loop on Mt. Baldy (officially Mt. San Antonio), and today I was doing another variation of the loop, this time with Skye and Ann.
Note that I use the term "with" here somewhat loosely. They've been training for the TransRockies Run this August, and putting in a lot of time and miles on the trails. How much? Today's run was just part of a 90+ mile, 22,000′ gain week for Ann.
Even though both of them had done hilly 23-24 mile runs the day before, I still had to try and find ways to slow them down:
"You know the route-finding on the next section of trail is a little tricky…"
or
"Let me get a little ahead so I can get a photo of you guys coming up the trail…"
or
"I'm not sure I got that rock out of my shoe. Can you guys hang on for a second…"
or
"Pleaseee slooow dooownn…"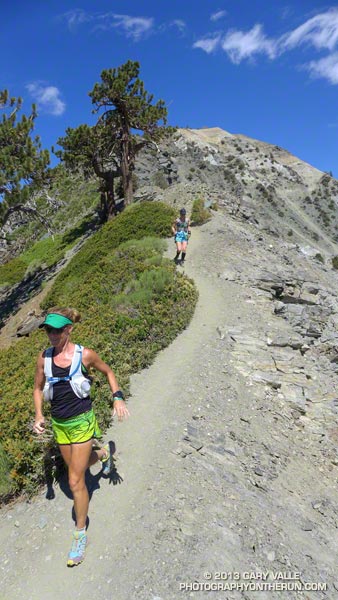 On the way up we did a variation of the Ski Hut/Baldy Bowl Trail that goes to the site where two Grumman F6F-5N Hellcat fighters crashed in a snowstorm March 21, 1949. Seeing the wreckage was a somber reminder of just how unforgiving mountain weather can be. It also brought to mind the image of a similar big-engined, vintage, single-prop fighter doing a spectacular, banked, high speed pass (just) over the summit of Mt. Baldy not long after I'd crossed the Run-to-the-Top finish line a few years ago. Today there wasn't going to be a problem with the weather, or for that matter, anything else.
After topping out on Baldy we ran over to West Baldy and back, and then continued down the Devil's Backbone Trail to the Notch. The running from the Baldy-Harwood saddle down to and along the Devil's Backbone is scenic and technical, and just about as good as mountain trail running gets.
We refilled our hydration packs at the Notch restaurant and then continued on to Thunder Mountain and Telegraph Mountain. The view of Baldy from Telegraph was excellent and it was easy to see Baldy Bowl and the route of the Ski Hut/Baldy Bowl Trail. We'd already done most of the 6000′ of elevation gain we would do today, and about 3000′ of the loss. Now on the 6.5 mile descent from Telegraph to Manker Flat we'd get to do the other 3000′.
Here are few additional photos from the run. Click the image for more info and a larger image.
| | | |
| --- | --- | --- |
| Near the Top | Descending Baldy | Above Harwood Saddle |
| Devil's Backbone | Devil's Backbone | Baldy Peaks |