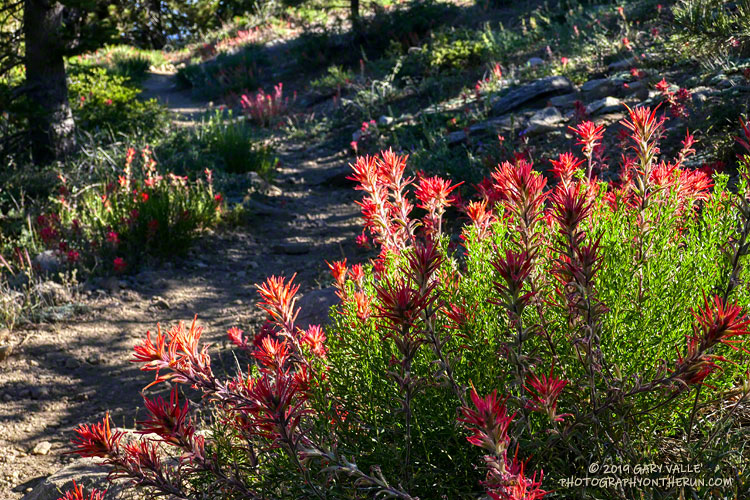 The out and back trail run from the Chula Vista parking area on Mt. Pinos to Mt. Abel (Cerro Noroeste) is a long-time favorite. It combines subalpine summits, beautiful pine and fir forests, and a unique flora with uncrowded trails that are fun to run and explore.
The basic out and back to Mt. Abel (Cerro Noroeste) with a stop on the way back at Sheep Camp for water is around 14 miles with an elevation gain/loss of about 3400′. The side trips to Sawmill Mountain and Grouse Mountain are short and add about 0.75 mile to the distance and around 250′ to the elevation gain.
As in other areas of Southern California, the wet 2018-19 Winter has resulted in an abundance of wildflowers in the Mt. Pinos region. Paintbrush, mariposa lily, larkspur, penstemon, lupine, phlox, iris, yarrow and many other plants are blooming in profusion. Limber pines in the area are full of cones and the spring at Sheep Camp is flowing well.
Floras and checklists for Mt. Pinos have been compiled by Tom Chester, CalFlora, Mount Pinos Ranger District, David L. Magney and others.
Here is a Juicebox album of a few photos taken on this trail run on Mt. Pinos.
Some related posts: Up, Down and Around on Mt. Pinos' Tumamait and North Fork Trails, Thunderstorm, Pinos to Abel Plus