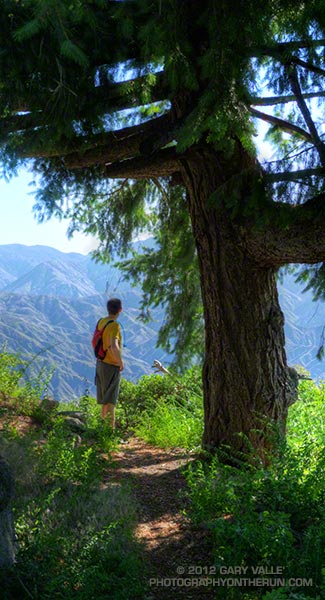 Brett was down for Father's Day weekend and one of the things we wanted to do was get in a couple of good trail runs. He's heard me talk (a lot) about the Mt. Disappointment 50K and how it ends. Basically you run 27 hilly miles with over 3600′ of elevation gain, THEN finish the race by doing a 5 mile, 2650′ climb from West Fork up the Gabrielino & Kenyon Devore Trails to the top of Mt. Wilson.
This final climb tells the 50K tale. If you've trained well and run a good race a middle-of-the-pack runner might gain 15-20 minutes on this leg. If not, you could easily lose an hour or more. In any case you put everything you have left into this climb. An elevation profile and some stats for Kenyon Devore are included in the post Hitting the (Big) Hills of Southern California.
There are several ways to incorporate Kenyon Devore into a loop, but I could only think of two that didn't involve running on Mt. Wilson Road. One option was a 22 mile/5000'gain loop from Shortcut Saddle to Mt. Wilson and back. That wasn't going to happen because just five days before I'd run the Holcomb Valley 33 Mile race. Instead we opted to start on top of Mt. Wilson and use the Rim Trail, Gabrielino Trail and Rincon – Red Box Road to get to West Fork. This would pare down the loop to a manageable 12 miles and 3000′ of gain.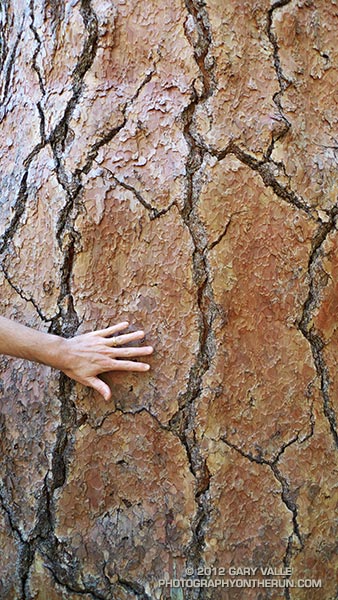 Other than a "few" gnats, a lot of poison oak and some Turricula (Poodle-dog bush), the Rim Trail was in good shape and the running excellent. Once away from the observatory complex the trail has an adventurous, backcounty feel. The trail was in good enough condition that Brett enjoyed running it in the KomodoSport LS.
The day was going to be a scorcher and I was glad that much of the Rim Trail was on the shaded, north side of the crest. The Gabrielino Trail and Rincon – Red Box Road were also relatively cool and in the shade. With no race clock ticking away, we stopped at West Fork and ate some blueberries and PB&J. So far the route had been down, down, down; but in a few minutes it was going to go up, up, up.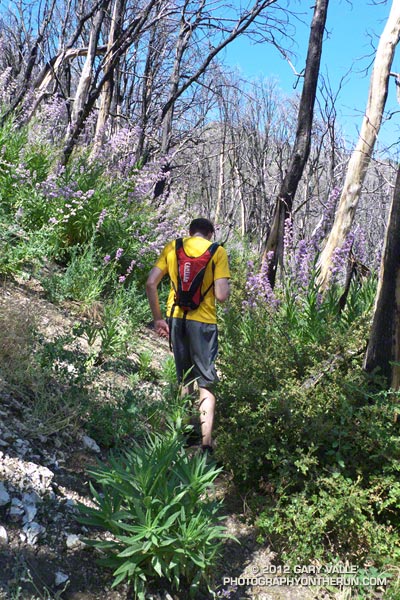 One of the surprises of the day was how much the Turricula (Poodle-dog bush) had grown along the Gabrielino and lower Kenyon Devore Trails since I had been here in early March. A rain gauge near here (Opids Camp) recorded nearly seven inches of precipitation from March 25 to April 26. This appears to have promoted the growth of the Turricula. In a very dry rain season the rain and snow had been much needed. It rejuvenated the streams and vegetation, and the area looked much as it would if the seasonal rainfall had been normal.
The Turricula could not be avoided in some places, but that will be remedied in a couple of weeks when Gary Hilliard's Mt. Disappointment Endurance Run volunteer trailwork group works on this section of the Gabrielino Trail and the Kenyon Devore Trail.
Update June 21, 2012. Although my contact with Turricula on this run was very limited, I did have a mild reaction, mainly on my arms. There was very slight inflammation and the "prickly" itching that is characteristic of Turricula. The itching became noticeable about a day after exposure and persisted for 4-5 days. Although mild, the reaction was stronger than occurred following several similar encounters last year. One difference was the exposure to poison oak on the Rim Trail earlier in the run. It's possible that there was a cross reaction. This was observed in animal testing, but not in (limited) human tests. However, my reaction following this latest encounter was much, much milder than my first bout of Turricula, which resulted from wading through large patches of the young Poodle-dog plants on miles of overgrown trail. That first very strong response may have also involved a cross reaction with poison oak.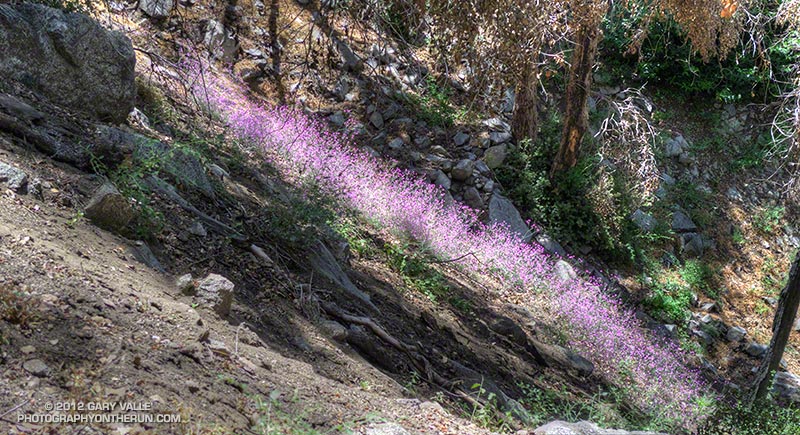 With the Summer Solstice approaching and the Sun so high, the temperature difference between sunny and shaded sections of trail was remarkable. About the time we were on Kenyon Devore the Clear Creek RAWS recorded a fuel temperature — the temperature of a wood dowel in direct sun — at a scorching 104°F. Brett did well on the climb and could have zoomed ahead. I had not recovered from Holcomb and struggled a bit on the exposed and steep sections of trail. Higher on the trail there was a breeze and more shade and that helped. It also helped pouring water over my head at the creek crossing!
It was great to show Brett Kenyon Devore, and what better way to sharpen the appetite for one of his superbly prepared dinners!
| | | |
| --- | --- | --- |
| Humboldt Lily | Turricula (Poodle-dog Bush) | California Sister |