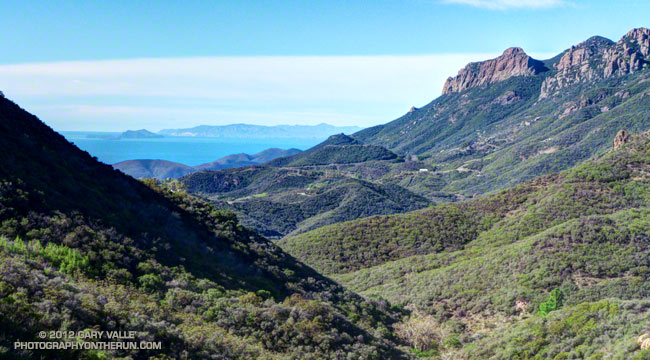 The temp was in the 40s and the chaparral wet with rain when we started the run. We were doing a two part trail run. The first part would be the 15 mile segment of the Backbone Trail from Kanan Rd. to the Mishe Mokwa trailhead on Yerba Buena Rd. The second would be the 6 mile Mishe Mokwa – Sandstone Peak loop.
The weak front that produced the overnight rain had marched on, and now skies were clear and it was a little breezy. As has been the case with many weather systems this year, there hadn't been a lot of rain. Though muddy in spots, the Backbone Trail was in surprisingly good shape, and the running excellent.
In addition to the greening of the hills and the sprouting of many annuals, the frequent, light rains had also created perfect conditions for the growth of a  variety of mushrooms and other fungi. Fortunately I was running with a sharp-eyed mushroom collector from the PNW that could pick out partially buried earth stars and other mushrooms among the leaves, twigs and other debris in the deep shade along the trail.
Here are three of the more peculiar fungi. Click the image for more info and a larger image.
| | | |
| --- | --- | --- |
| Orange Jelly | Comb Tooth | Earth Star |
Some related posts: Circle X Crags and the Channel Islands, Mishe Mokwa – Sandstone Peak – Grotto Trail Run