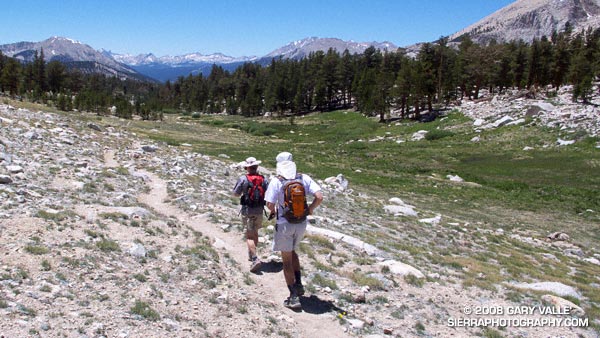 It isn't unusual for snow to persist on New Army Pass (12,300′) well into July. Strong northwest winds, following in the wake of blustery Winter storms, blow freshly fallen snow over the crest and into this cirque, forming cornices along its lip, and dense slabs of wind-ground snow in it's lee.
That's why the July 1 Sequoia & Kings Canyon National Park Trail Conditions report for New Army Pass seemed plausible. It read, "The top of the pass has an 30 foot snow wall – ice axe recommended."
The reported trail conditions are a compilation of reports from the field, and are not always up-to-date. Having been over the pass a number of times, and in a variety of conditions, I thought that we would probably be able to bypass any remaining patches of snow without needing an ice axe. Worst case, if the pass looked dicey, we could use Cirque Peak or some other alternative route to attain the crest.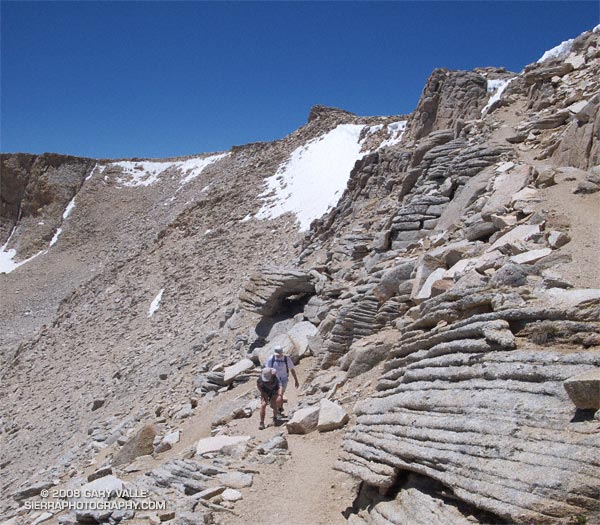 We need not have worried. While there was snow in the cirque, and in a couple of places along the trail near the top of the pass, the trail was completely clear. Even so, it was a good excuse to do the 21 mile Cottonwood loop counterclockwise — the reverse of my usual circuit — climbing up New Army Pass from the Cottonwood Lakes side, and then running down into Rock Creek basin.
Now that I've done the loop in both directions, I think I prefer the clockwise circuit. The 9 miles of running from New Army Pass down through the Cottonwood Lakes basin is generally better than the running down from Chicken Spring Lake and Cottonwood Pass. Also, there's more downhill on some sandy sections of trail between Chicken Spring Lake and Rock Creek. The tradeoff is you give up the nice downhill into Rock Creek basin, and near the end of the loop have a mile or so of annoying uphill.
Here's a Google Earth image, Google Earth KMZ file, and an elevation profile of a GPS trace of the route. (The elevation profile was generated using SportTracks.)
Related posts: Cottonwood – New Army Pass Loop, Mt. Langley in a Day from L.A.