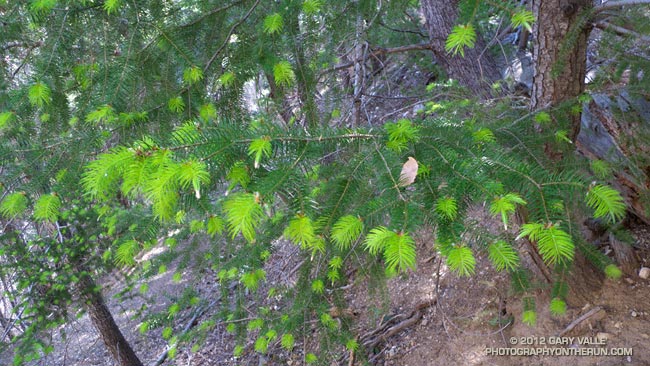 These young-appearing bigcone Douglas-firs along the Valley Forge Trail are probably older than they look. According to the Forest Service Silvics Manual, Volume 1: Conifers, saplings may be only 2 ft. tall when 40-50 years old and as old as 70 years when they break through the oak overstory.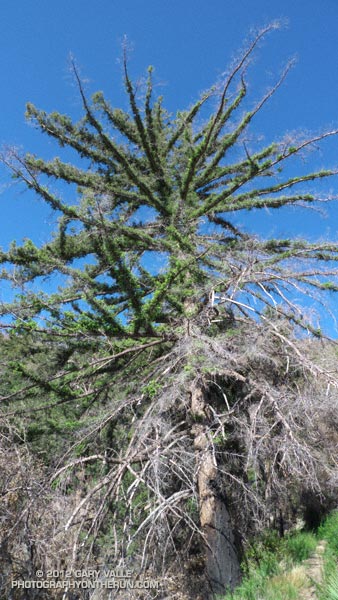 The bigcone Douglas-fir is a very resilient tree that is remarkably fire tolerant. It can lose virtually all of it foliage to a fire, appear to be beyond the point of recovery, yet survive and regenerate its foliage. Fire-scarred bigcone Douglas-firs have been used to analyze fire history and regimes.
The photograph on the left is of a bigcone Douglas-fir along the Valley Forge Trail that was burned in the 2009 Station Fire. Here is a closer view of the same tree showing how new foliage sprouts from buds along its limbs and trunk.
The Valley Forge Trail is in the canyon of the West Fork San Gabriel River in the San Gabriel Mountains near Los Angeles. It connects the Gabrielino Trail to Eaton Saddle on Mt. Wilson Road. The trailhead for Mt. Lowe Truck Trail is at Eaton Saddle.
The photographs are from a trail run in May 2012.
Related post: Red Box – Bear Canyon Loop