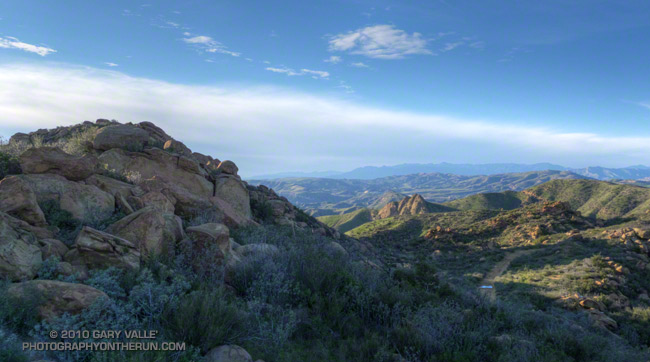 Foretelling the approach of a system forecast to bring wet weather to some areas north of Pt. Conception New Year's Day, and Los Angeles Sunday, this thick cirrus cloud shield is associated with the circulation around a low a few hundred miles off the Pacific Northwest coast.
Wednesday's cold front, the latest in a series of surprisingly frequent December weather systems, increased the water year rainfall total at Downtown Los Angeles (USC) to 11.70 inches. As of today, L.A.'s rainfall total is about 8 inches above normal, and more than three times the normal amount of rainfall for the water year to date. For the first six months of the 2010-11 water year, the rainfall total for Downtown Los Angeles is the fourth wettest in the 133 years that records have been kept. The water year starts on July 1 and ends June 30.
The photograph is from today's run on the Chumash Trail and Rocky Peak Road, northwest of Los Angeles. It was cold on the north facing sections of trail that don't see the sun this time of year. Inch long needle ice crystals had formed along the margins of the trail in several places.