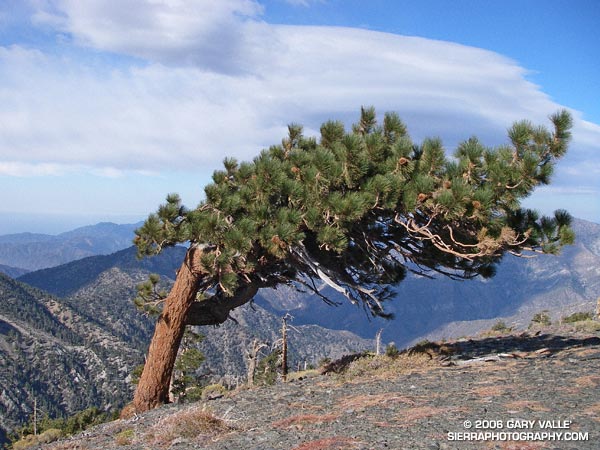 I was cold — but not cold enough to do anything about it. I was chugging up the final steep step on Mt. Baldy's exposed northern flank and didn't want to stop. Strong winds were gusting out of the northeast, and the effective temperature had to be in the thirties. Mountain wave clouds paralleled the San Gabriels, stretching in a line from southwest of Mt. Baldy to beyond Mt. Williamson.
At the trailhead I'd seen the lens shaped clouds hovering over the mountains and expected it to be windy and cold. I'd changed my single layer long sleeve top for a more wind resistant double layer top and also pulled on some warmer shorts. I had started the climb with lightweight gloves and a  3 oz. rain shell in my pack. The gloves were out of the pack by the first peaklet, but I was still resisting putting on the rain shell.
So why repeat the same adventure on back-to-back weekends? The main reason is that I really enjoyed the route. But there were several more obtuse reasons as well. Last week, my Garmin Forerunner 205 would not turn on*. This is a known issue with an otherwise excellent GPS. However the usual workaround, pressing Mode + Reset + Power simultaneously, would not bring mine to life. So I didn't get a a GPS trace of the route. The trace is not only useful for determining the approximate length of the route and elevation gain, but for documenting where photographs were taken and the location of interesting features.
This week I used my older Garmin Foretrex 201 GPS. It isn't as compact or comfortable to wear as the Forerunner 205, and isn't quite as sensitive, but at least it could be powered on. There were two trees in particular that I wanted to georeference. The first was a Jeffrey pine that had been recently struck by lightning. As it turns out, it didn't require a GPS to determine its location because it is already marked on the topo as point 8555. The second was a gnarled and ancient Sierra Juniper on Pine Mountain.
Here's a Google Earth image and Google Earth KMZ file of a GPS trace of the route. The title photograph is of a wind swept Jeffrey Pine on a south facing slope near Dawson Peak, with mountain wave clouds in the background.
*Garmin promptly replaced the unit. As a precaution, I now check that the unit can be powered on after it is removed from the recharging cradle.
Some related posts: Mt. Baldy North Backbone Trail, Mt. Baldy Run Over the Top