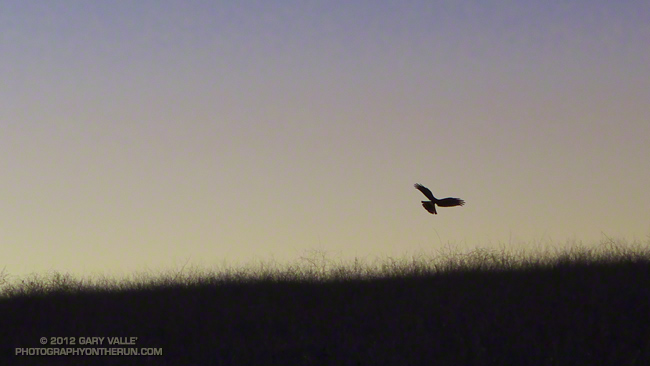 Dusk is a dangerous time. Death glides through the shadows, stealthy and quiet. Retreat to your burrow, stop munching those sprouts, silent wings and sharp talons are out and about.
It was after sunset and I was in the last miles of a run at Ahmanson Ranch. A few minutes earlier I'd noticed a pair of northern harriers crisscrossing the grasslands of Lasky Mesa. Now on the east side of the mesa, with the light fading, I saw them again. This time they were flying together — one in lead and one in trail — and making a low, sweeping pass, just a few feet off the ground.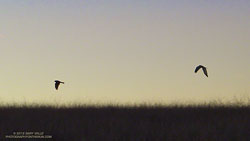 Northern harriers have an owl-like facial ruff, and can hunt using sound, as well as vision. Obviously hunting for prey, they continuously made small adjustments to their flight paths, overflying one interesting spot and then another. There were calls between the birds — a dialog seemingly related to the hunt.
Was that movement? I'll check. No. Did you check there? Yes.
Their behavior had been intriguing enough that I had stopped to watch. The harriers were backlit by the western sky and I snapped a photo of them flying in a leading/trailing formation. I had taken a photo of the lead bird and had just switched to the trailing bird when it suddenly spread its sleek wings and tail, pivoted into an impossible turn, briefly hovered, and then pounced on its prey.
The time from the first photo of the pair to the turn and strike was 18 seconds. It was remarkable to see!
Related post: Northern Harrier on Lasky Mesa