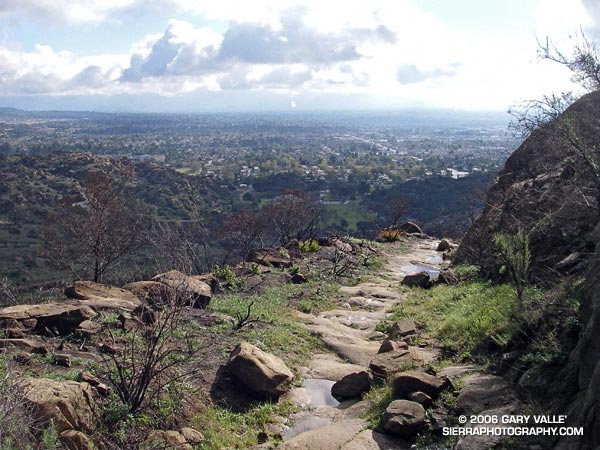 Running or hiking up the Old Santa Susana Stage Road, if you stop and listen carefully, you may hear a sharp whistle, a raspy shout, or a few choice expletives echoing from the canyon walls. It would have taken a barrage of such oaths, and a lot more, to get a stage up and over this harrowing grade.
The image of the Simi Pacific Coast Stage in the book Simi Valley: A Journey Through Time, helps to complete the mental picture. Steep, narrow, and unforgiving, the Stage Road must have produced stark terror in more than a few passengers.
Established in 1861, the "Devil's Slide" stage road was a link in the Pacific Coast Stage Line between Los Angeles and San Francisco. It follows the route of the original Spanish trail connecting the San Fernando and Santa Buenaventura Missions. Prior to the arrival of the Spanish, the route is said to have been "an old Indian trail," connecting Chumash communities in Simi Valley to Gabrielino communities in the San Fernando Valley.
Old Santa Susana Stage Road is located in Santa Susana Pass State Historic Park. The park was created in 1998 to protect the Stage Road and other cultural resources in the area. A General Plan characterizing the purpose and long-term vision for the park is in under development, and through a series of meetings, public input on the plan is being requested. The second such meeting is scheduled for Tuesday, June 20, 2006 at 8:30 P.M. at Chatsworth Park South. See the General Plan web page for additional details.
There is currently no "official" trail leading to the Stage Road. Since the area was burned in the Topanga Fire last Fall, it's important to stay on existing dirt roads and trails to help promote recovery, and avoid damaging sensitive habitat or species.
(Photograph from a run on February 19, 2006.)