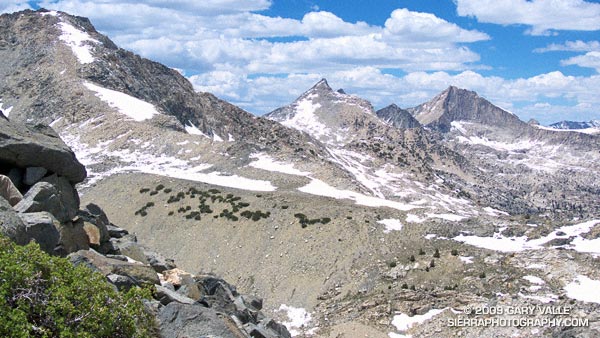 Mt. Cotter and Mt. Clarence King from Glen Pass.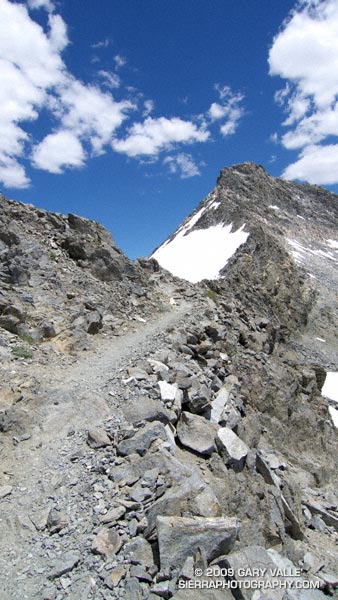 The last time I was on Glen Pass was a brisk and brilliant October morning in the late 70's. Overnight, the first cold front of the season had covered the trail with a few inches of snow. Working up toward the pass, bright fingers of gold had reached through long shadows to illuminate the angular, lichen-covered rocks, and the new snow had sparkled in celebration of Winter's rapid approach.
Today, I'm back on Glen Pass, once again reveling in the wildness and beauty of my surroundings. There is almost no wind, and even at 12,000′ the day is warm. Refreshed by late season storms, the remaining snow is bright and youthful, accenting the elegant lines of the rugged alpine terrain. In counterpoint to the snow, a patchwork of clouds decorate the intensely blue sky.
In the outdoors, each place and day is remarkable in its own way.
Here are a few photographs from the run:
University Peak (13,589'/4142 m) from the Kearsarge Pass Trail.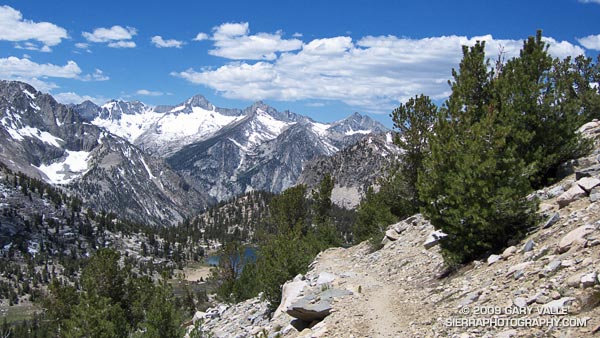 Spectacular running at 11,000′ near Bullfrog Lake. The snowy peaks are (l-r) South Guard, Mt. Brewer, North Guard, and Mt. Francis Farquhar.
Charlotte Dome from the PCT/John Muir Trail, south of Glen Pass.
Switchbacks on the south side of Glen Pass. If you look closely you can see a pair of hikers working up the trail.
Nearing the top of Glen Pass (11,978'/3651 m).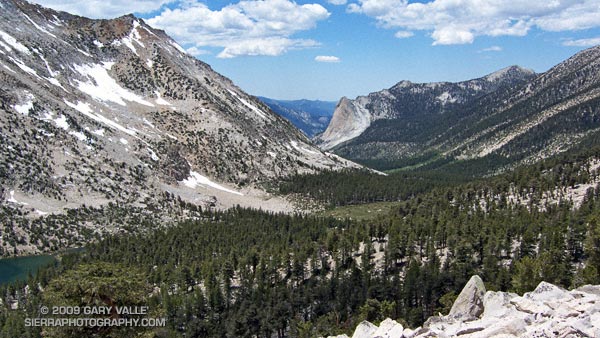 The out and back trail run from Onion Valley (9200'/2804 m), over Kearsarge Pass (11823'/3604 m), to Glen Pass (11,978'/3651 m) worked out to about 20 miles, with an elevation gain/loss of about 4750 ft. Here's a Cesium browser View of a GPS trace of my route and an elevation profile generated in SportTracks.
Related post: Up and Over Kearsarge Pass