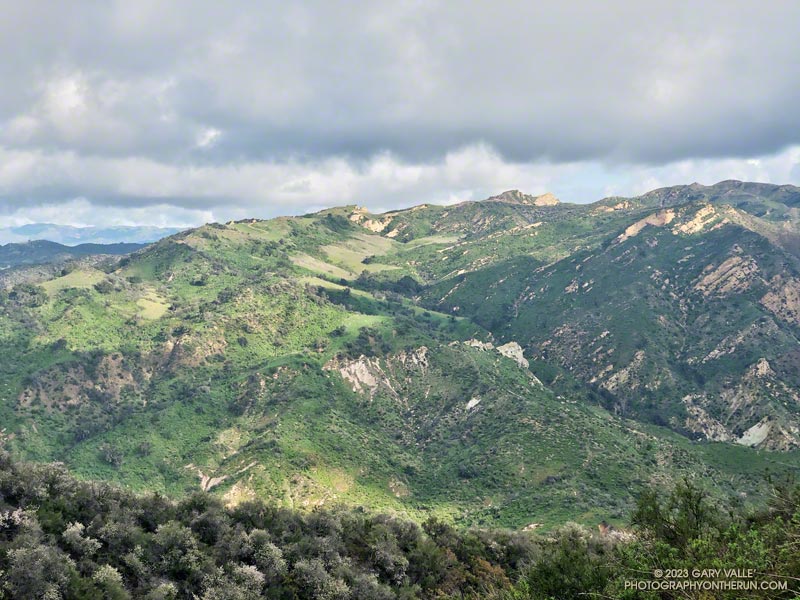 The view from Parker Mesa Overlook was the uniform gray of the inside of a cloud. I was about 30 minutes too early, and the low clouds hadn't cleared. The Pacific Ocean was out there somewhere.
Even so, the run from the Top of Reseda to the Overlook had been excellent. The hills and canyons were painted in a muted palette of sun and shadow. Purple-pink prickly phlox brightened the roadside, and the "Beech-nut Gum" scent of Bigpod Ceoanthus filled the air.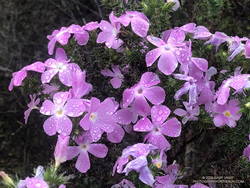 Fire Road #30, Eagle Springs Fire Road, and East Topanga Fire Road had all been cleared of the sluffs and slides that resulted from January's rainstorms. Overnight, there had been a little drizzle, but the fire roads hadn't been muddy at all.
Rather than just retracing my steps, on the way back to the Top of Reseda I opted to do the Musch and Garapito Trails. I had run the Garapito Trail in mid-January but hadn't been on the Musch Trail since the January deluge.
The Trippet Ranch parking lot had been packed, and several groups appeared to be on their way to Eagle Rock via the Musch Trail. Overall, the trail weathered the storms reasonably well, but one badly eroded section and a couple other spots will need some work.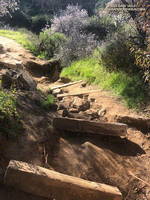 While it still had some issues, use of the Garapito Trail had moderated its condition since the last time I was on it. Some brush that had blocked the trail had been removed, and paths were evolving through the collapsed sections of trail. However, some extra care was still required in some spots.
The Bent Arrow Trail was closed, necessitating a return to dirt Mulholland on Fire Road #30, following the same route as had been used at the beginning of the run.
Here is an interactive, 3D terrain view of a GPS track (yellow) to Parker Mesa Overlook from the Top of Reseda. The Bent Arrow Trail is temporarily closed for repair and is shown in red. To change the view, use the control on the upper right side of the screen. Track and placename locations are approximate and subject to errors. Poor weather and other conditions may make this route unsuitable for this activity.
Some related posts: More Malibu Creek Flooding, Looking for Storm Damage in Point Mugu State Park, Popular Trails in Topanga State Park Damaged by Winter Storms