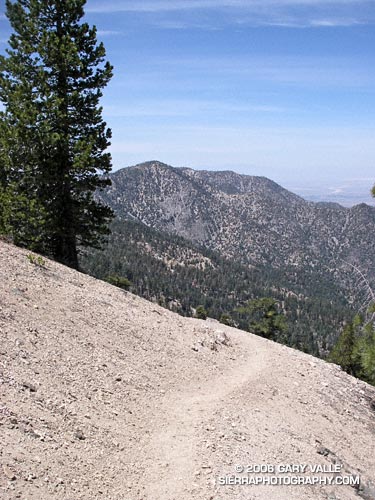 Mt. Williamson from the PCT above Windy Gap
Update May 21, 2009. Angeles Crest Highway (SR2) has since been re-opened to Islip Saddle, and through to Wrightwood.
There's more of a wilderness feel in the Angeles Forest high country today. A big chunk of Angeles Crest Highway is closed. From Eagles Roost to Mt. Baden-Powell, and back again, the absence of vehicle noise has been startling. There have been no squealing tires, warbling sirens, or red-lined RC51's echoing up from Highway 2. Instead, the loudest sound is Little Jimmy spring water splashing at my feet. High on a ridge, a Clark's Nutcracker tells me I'm in the mountains. and overhead, the wind plays quietly in the boughs of an immense Incense Cedar.
It's been a blazing, triple digit day down in the valleys, and even at 8000 ft. the south-facing slopes have been warm. Chased by the warm weather, several PCTers trek northward; hoping that by the time they get to the Sierra the passes will not be choked with snow. Most have seemed enthusiastic, and eager to face the challenges ahead.
The crux of this day's adventure looms around the corner at Islip Saddle. The steep 1.5 mile climb to near the summit of Mt. Williamson, and 1.5 mile descent to Hwy. 2 will retrace earlier miles of my trek. A mirror image of this morning's pleasant ascent, this afternoon's climb will be a cruel and evil twin. The 1200 ft. elevation gain will bring the day's total to around 7000 ft.
Descending to the parking lot at Islip Saddle, I automatically look for my car. The lot is empty. Tufts of grass growing in in the pavement cracks waft in the breeze. A couple of PCTers rest in the shade of the restroom. A bird sings a cheerful tune from a nearby tree. I head on up the trail…
Today's photograph is of a nice downhill section of trail at about 8200 ft, northbound on the PCT, above Windy Gap. That's Mt. Williamson in the background. I was surprised I didn't run into anyone that was doing Mt. Williamson. Williamson Rock is in the area closed by the Forest Service to protect critical habitat of the mountain yellow-legged frog, but Mt. Williamson is outside of the closed area (PDF Map). The Hwy 2 closure is about 0.25 mile west of Eagles Roost, and only adds about 2 scenic miles to the round trip up Williamson. If your favorite hikes or runs start at Islip Saddle, here's a topo map of the area that shows the approximate mileages from the locked gate on Hwy 2 to Islip Saddle. For more information regarding the closure of Williamson Rock, see the  Access Fund Williamson Rock page for more information.