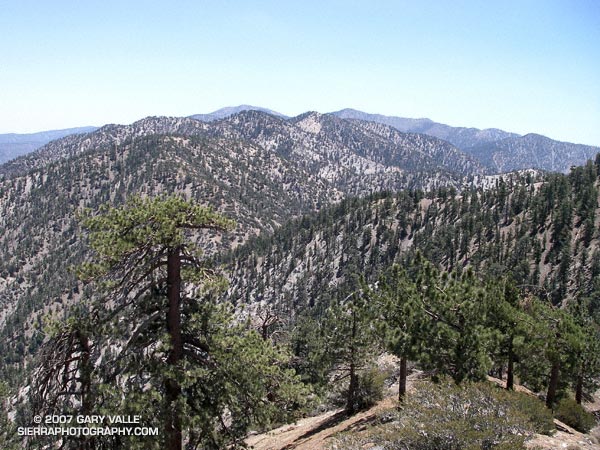 Sitting on a weather worn log, I emptied the grit from my shoes and asked Miklos how much water he had left. We had just finished the 3 mile segment of Pleasant View Ridge, between Mt. Williamson and Burkhart Saddle and were debating continuing along the ridge to Will Thrall Peak and the next peak to the northwest. Abiding by the "here now, climb it now" philosophy, we took the first few steps up the steep slope.
A little more than a mile and 1200′ of gain later we were enjoying the panoramic view, and pondering why there would be a benchmark stamped "PALLETT" on the summit of a peak named "Pleasant View Ridge," on Pleasant View Ridge, in plain view of Pallett Mountain.
With the addition of the segment from Burkhart Saddle, this extended version of the Pleasant View Ridge hike/run included the following peaks and high points:
Mt. Williamson (8214′) – As marked on the Crystal Lake topo.
Point 8244 – The Mt. Williamson register is normally here.
Point 8248 – This is the highest point on Pleasant View Ridge.
Peak 8160+ – Peak east-southeast of Pallett Mountain.
Pallett Mountain (7760+') – Peak just east of Burkhart Saddle.
Will Thrall Peak (7845′) – Peak just west of Burkhart Saddle.
Pleasant View Ridge 7983′ – Peak northwest of Will Thrall marked with a benchmark stamped "PALLETT."