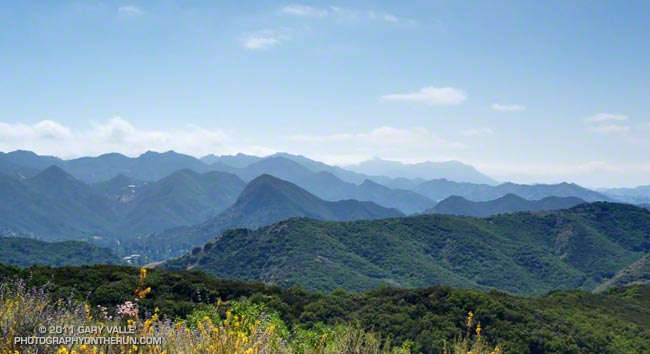 View West Toward Boney Mountain from the Phantom Trail
Following last weekend's Holcomb Valley 33 and yesterday's trail work, today I was looking to do something moderate. Without thinking too much about the condition of the Phantom Trail when I was on it a month ago, I decided to do the Phantom loop in Malibu Creek State Park. The eight mile loop is normally a favorite recovery run. The 1000′ of elevation gain/loss is kind to tired legs, and the loop has varied terrain and great scenery.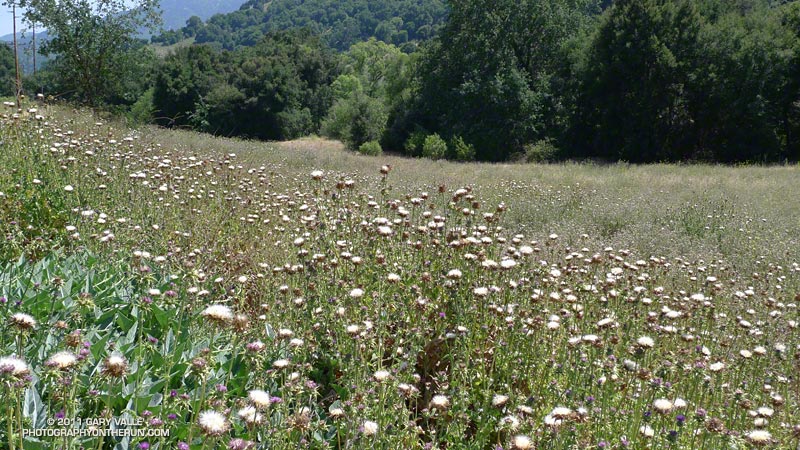 The first five miles (Cistern, Lookout, Cage Creek, Crags Rd., Grassland and Liberty Canyon trails) are in decent shape, but portions of the Phantom Trail are really overgrown. The growth of the noxious invasive plant milk thistle in the Liberty Canyon area is the worst I've seen in years. At one point near Liberty Canyon the spiraling winds of a strong thermal picked up a countless number of the thistle's plumed seeds and carried them to who-knows-where!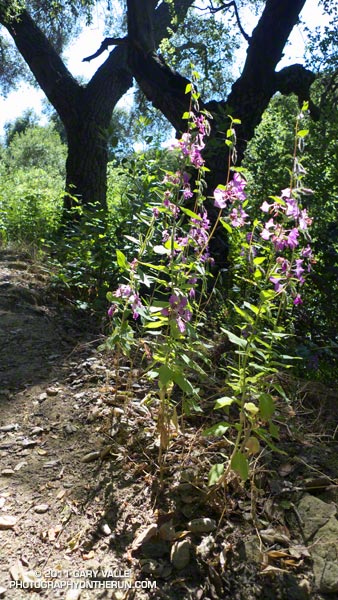 The middle section of the Phantom Trail climbs up a shaded side canyon to a prominent ridge line. It isn't as overgrown. There is some very healthy poison oak that is sometimes difficult to avoid, but it's a pretty section of trail with a lot of green and a variety of wildflowers.
Once up on the ridge and for about the last 1.5 miles of the loop, the issue isn't with an noxious invasive, but with the native plant deerweed. It's so thick and brushy it's often difficult to see the trail — or your footfalls, or ruts or rocks, or anything else on the trail.
While I wouldn't recommend this loop right now as a trail run, it was interesting to see (once again) how our wet rainy season has affected this area.
Some related posts: Invasive Thistle on the Phantom Trail, Milk Thistle Seed Heads