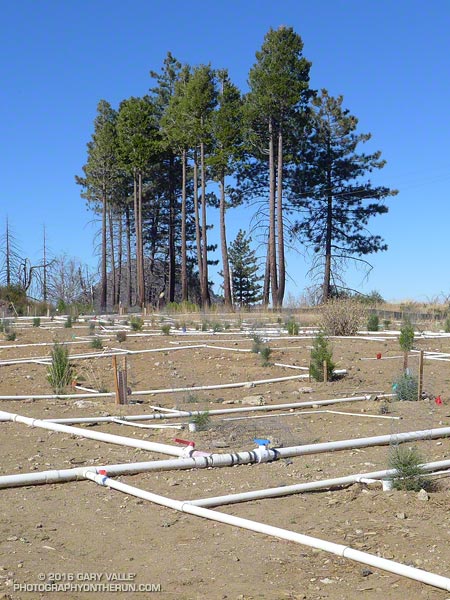 Nearing the junction I debated what to do — turn left on a well-used trail and climb Strawberry Peak or continue straight on an abandoned, overgrown road and go to Barley Flats? If I continued on the road it would be my second bush-whacking adventure of the day. Earlier, I'd abandoned an exploration in upper Colby Canyon when frequent rifle fire made the canyon feel confined and dangerous. This adventure was my plan B.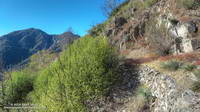 Each time I've done Strawberry Peak from Red Box I've wondered about that overgrown old road. In the book The San Gabriels, John Robinson mentions that it was a Forest Service fire road built in 1926. It's shown on the USGS 1934 Mt. Lowe and Mt. Wilson Advance Sheets connecting Red Box Gap and Barley Flats and then continuing to Charlton Flats, Chilao and the high country. Back then Angeles Crest Highway didn't go to Shortcut Saddle, it turned at Red Box and went to the top of Mt. Wilson.
At the junction, I stepped over the rocks marking the left turn toward Strawberry Peak and started up the old road. After about five yards, I almost turned back. The trail was so overgrown it seemed nearly impassable. Yucca and whitethorn conspired to block the way, or at least make it too painful to proceed.
Having done my share of bush-whacking I've learned that it's usually not as bad as it looks. With a little patience the determined hiker can usually find a tolerable way through. That was the case here, but not only was the trail overgrown, there were downed trees and limbs from the 2009 Station Fire, and several small rock slides and wash outs partially blocking the trail.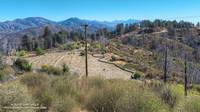 For 2.5 miles I kept repeating, "That wasn't that bad. I'll just see what's around the next corner." After nearly an hour and a half of seeing what was around the next corner — and almost turning back several times — I finally reached Barley Flats.
Like many places in the San Gabriels, Barley Flats has a colorful history. In the middle 1800s the site was a favored hideout of horse thieves and cattle rustlers. During the cold war it was one of the many Nike defense sites surrounding Los Angeles. More recently it was a Los Angeles County Sheriff's Probation Camp and Retreat and today continues to be used as a staging area for LASD's Air Rescue 5. Much of Barley Flats and the surrounding area was burned in the Station Fire.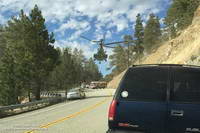 Air Rescue 5 has conducted numerous life-saving missions in Angeles National Forest, including countless air ambulance evacuations from "nearly every corner" of Angeles Crest Highway.
Even before reaching Barley Flats I had decided to take an alternate route back to Red Box. Barley Flats sits on the divide between Upper Tujunga Canyon and the West Fork San Gabriel Canyon. Doing a loop through West Fork sounded a lot more appealing than running the thorny gauntlet back to Red Box on the old road.
It took about one-third of the time to run three miles down paved — and brush-free — Barley Flats Road as it had to bushwhack from Red Box to Barley Flats. There were a few hunters out on Barley Flats road, but all had their rifles shouldered. Since leaving Red Box I had heard only one very distant rifle shot — a big change from the far too frequent rifle fire in Colby Canyon.
From the intersection of (gated) Barley Flats Road and Angeles Crest Highway it was only about 0.7 mile over to Shortcut Saddle. At Shortcut I picked up the Silver Moccasin Trail. As I began to run down the trail toward West Fork, I reached around with one hand and lifted my pack. How much water remained?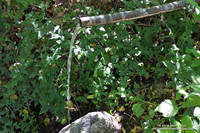 The plan was to run down to West Fork, get water, and then run up the Rincon-Red Box fire road to Red Box — completing a loop. The spring at West Fork is usually reliable, but with the drought I couldn't be 100% sure. Nearby Mt. Wilson was recently forced to close its restrooms and turn off the water spigots used by hikers and runners because of insufficient water.
I was surprised to find the spring was running as strong as it had been in early July during the Mt. Disappointment Endurance Runs. Water was not going to be an issue on the five mile run up to Red Box.