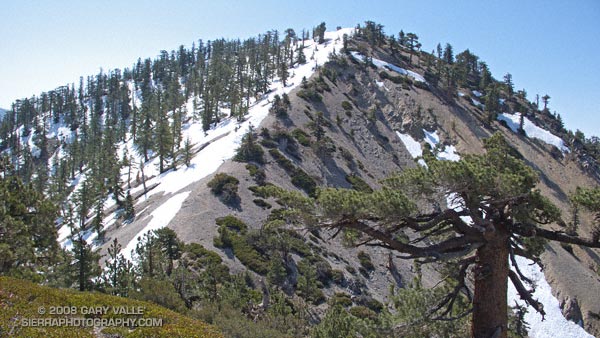 A small patch of snow crunched under foot as I worked my way west along Pleasant View Ridge. Overnight the temperature had dropped below freezing, and careful route-finding was required to work around icy patches of steep snow clinging to the ridge. In other years this might be tedious, but after last year's parched Spring, it was enjoyable to have to wind my way through the maze of rocks, trees, chinquapin and snow.
Most of the snow could be avoided by staying on the sunny side of the ridge. but in a couple of places it was easier to drop down and around large patches of snow on the north side of the ridge. The snow was rock hard, and I wondered if the descent from the highest point along the ridge was going to be a problem. There was little doubt that the north slope of peak 8248 would be snow covered. If the snow extended to the northwest ridge and face, I might have to turn back.
Fortunately, as the photograph above shows, most of the ridge was free of snow, and I was able to continue on the loop. It was great to have snow on the peaks and water in the creeks!
Related posts: Pleasant View Ridge, Peaks Along Pleasant View Ridge
Google search: $g(Pleasant View Ridge), $g(trail running), $g(San Gabriel Mountains)