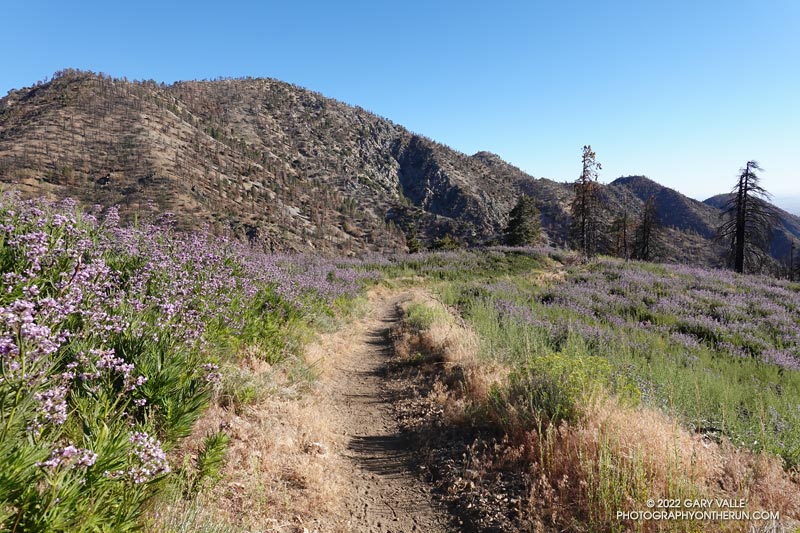 Nope, my eyes weren't deceiving me, the hiker was carrying his full-size poodle up the trail.
I was running down the PCT, east of Islip Saddle, after a run/hike to Mt. Hawkins and Throop Peak. I'm guessing the hiker was carrying his dog to keep it out of the Poodle-dog Bush on both sides of the trail.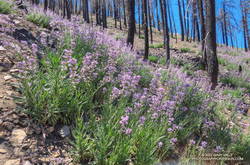 Poodle-dog Bush (Eriodictyon parryi) is a fire-follower that can cause severe dermatitis in some people. In this case the plants sprouted following the 2020 Bobcat Fire.
The last big outbreak of Poodle-dog Bush followed the 2009 Station Fire. At that time many people were unfamiliar with its potential effects, and were caught off-guard.
The plant can get you in a couple of ways — the plant's resin can affect sensitized people in a manner similar to poison oak, and the plant's numerous hairs can break off and irritate the skin.
My experience with Poodle-dog Bush is described in the posts Contact Dermatitis from Eriodictyon parryi – Poodle-dog Bush and Getting Over Poodle-dog Bush Dermatitis.
Additional related posts: Trail Runners Describe Reactions to Poodle-dog Bush, Poodle-dog Bush Near the Top of the Mt. Wilson Trail