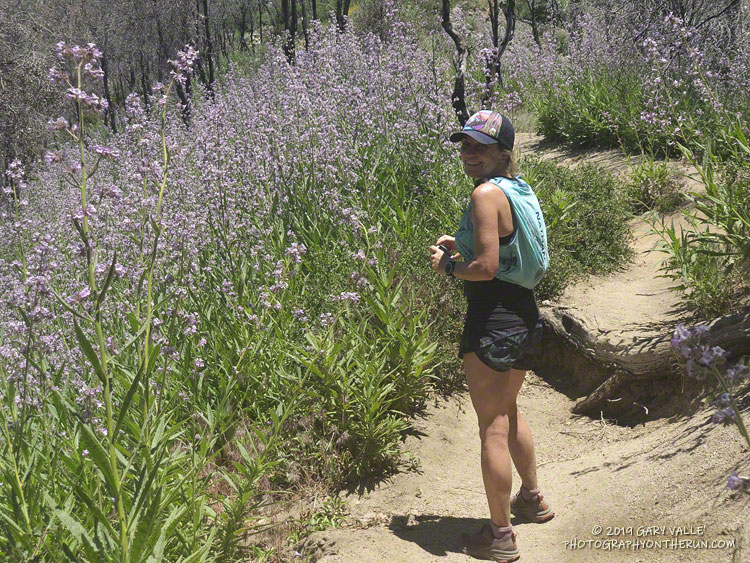 The Mt. Wilson – Chantry Flat loop is a favorite that I run a couple times a year. Including a little bonus mileage to get to the Mt. Wilson parking lot before the gate opens, the run is about 18 miles long and gains/loses about 4500′ of elevation. The main trails in the loop are the Rim Trail, Gabrielino Trail, Upper Winter Creek Trail and Mt. Wilson Trail.
The weather was perfect for today's run. Sunny at the beginning, then partly cloudy for the 4000′ climb from the "green bridge" below Chantry to the parking lot on Mt. Wilson. Although there was a lot of poison oak on the Rim and Gabrielino Trails, it was mostly avoidable. About 30 minutes into the run, I was surprised to hear the unmistakable gobble and rustling of a wild turkey high on the Rim Trail.
Near the end of the loop, on the section of the Mt. Wilson Trail above the Mt. Wilson Toll Road, I saw two solo hikers brush against new, vigorously growing patches of Poodle-dog bush (Eriodictyon parryi). I spoke to them, and they were unaware that, like poison oak, Poodle-dog bush can cause an itchy rash. Some people don't react at all to the plant and others can have a severe reaction. My own experience is described in this post.
Poodle-dog bush is a fire follower that grows in the San Gabriel Mountains, and some other areas. It became very widespread following the 2009 Station Fire. There are still some diminishing patches of Poodle-dog bush on the north side of Mt. Wilson (and elsewhere) from the Station Fire, but the Poodle-dog bush on this part of the Mt. Wilson Trail is a result of the 2017 Mt. Wilson Fire.
Some related posts: Contact Dermatitis from Turricula parryi – Poodle-dog Bush, Mt. Wilson – Newcomb Pass – Chantry Flat Loop, Misplaced on Mt. Wilson, GSU Mt. Wilson CHARA Telescope Array