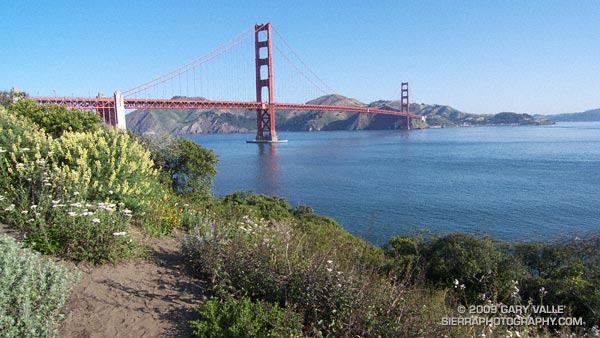 So far, Brett's intro to Bay Area trail running had taken me to the Marin Headlands and Pt. Reyes National Seashore — outstanding areas in which to run and hike, with great scenery, terrain and courses. An area that might be overlooked by a visiting trail runner is the Presidio. That's where we were running this morning.
Warm weather had chased the fog away. Saturday, the high temp at SFO was 89 degrees, and today the high was forecast to be in the 90s. So it wasn't a big surprise that at 7:30, the temp was already near 70 when we descended the stairs at Inspiration Point. (SFO would set a record high of 93 later in the day.)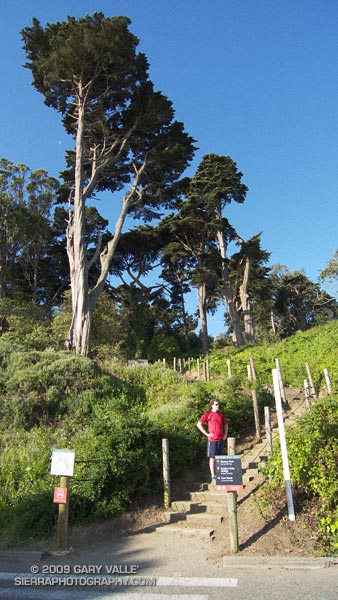 Our loop started on the Ecology Trail and then worked down through the Main Post, under the 101, across Crissy Marsh, and onto the Golden Gate Promenade (Bay Trail). From the Promenade there were iconic views of San Francisco Bay, Alcatraz, Marin, and the Golden Gate Bridge. Just past the Warming Hut we turned up the East Battery Trail stairs, and then continued west, under the southern abutments of the bridge.
Here we followed the Coastal Trail past several 100+ year old defense batteries, to another nice overlook of the Golden Gate. After clambering up on one of the battlements, we headed east to Fort Scott and picked up the Bay Area Ridge Trail. This segment took us through the Presidio's trademark pine, cypress and eucalyptus forest to the high point of the course near Rob Hill Campground, then along the Presidio Golf Course, and finally down past Andy Goldsworthy's cypress spire to the car. From the point of view of this out-of-towner, the course was spectacular, and it's hard to imagine an urban run with more variety!
Our particular loop worked out to about 5.5 miles, with an elevation gain/loss of about 450 ft. Here's a Presidio Trust map of Presidio Trails and Overlooks (PDF), a NPS Presidio Map, and a Cesium browser View of a GPS trace of our loop.
I had a great time in San Francisco, and can't wait to get back and see more… Thanks Brett & Amanda!