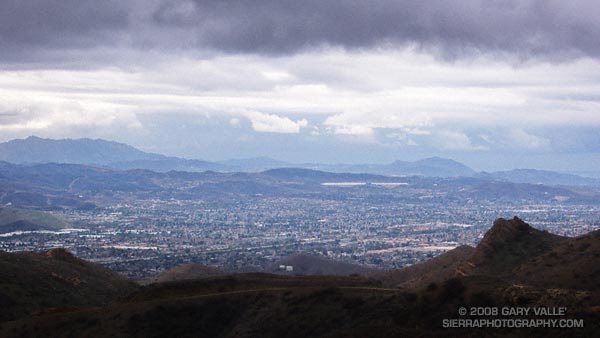 Ran Rocky Peak road both days last weekend. Saturday's outing was a 7.3 mile rainy day run out to the Chumash Trail junction and back. Sunday's was a little longer, about 9.3 miles — past the Chumash Trail junction to the highpoint on the road sometimes referred to as "the fossils."
The photograph of Simi Valley was taken on Sunday afternoon, just after turning around to head back. The wind was blowing in fitful gusts, and a gray wall of rain loomed to the west. It wasn't raining yet, but the trailhead at Santa Susana Pass was about 50 minutes away, and there was a feeling things were going to get very wet, very soon.
Over the weekend the west coast was slammed by a series of storms that increased the water year rainfall total at Downtown Los Angeles to an inch above normal and the Sierra snow pack from 60% of normal to over 100%.
So far this rain season, Southern California has dodged a La Nina bullet. This AHPS Precipitation Analysis for the water year indicates much of the area has received near normal to above normal precipitation.
Will Southern California rainfall remain near normal? The Climate Prediction Center's precipitation outlook for Jan-Feb-Mar (issued Dec. 20), the ERSL/PSD Nov-Mar La Nina precipitation composite, and most other longer range forecast tools say no.
On the other hand… the base state of the atmospheric circulation remains more or less what it has been the past several months, so it doesn't seem unreasonable to suggest that our pattern of near normal rainfall might continue.
The current NWS 6-10 day and 8-14 day precipitation outlooks project below normal for Southern California, but there are some hints that a system with a lower latitude track could affect the area near the end of the 14 day period. We'll see!
Note: The ESRL/PSD Composite ENSO plots page was updated yesterday to correct an issue that resulted in the wrong set of years being used for its Winter La Nina composites. As a result the La Nina composite precipitation map in this post is drier in coastal Southern California than in the map originally published in the post Southern California 2007-2008 Winter Precipitation Outlook.