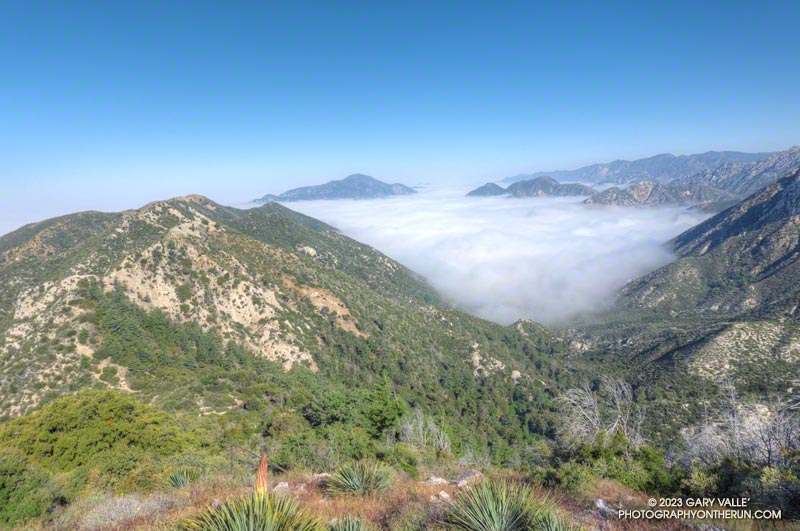 The Red Box – Bear Canyon – Switzer's Loop trail run is a favorite I've enjoyed doing for many years. Part of its attraction is the isolated, backcountry feel of Bear Canyon, particularly between Tom Sloane Saddle and Bear Canyon Trail Camp. It's worth spending a few minutes at the old cabin site in the upper canyon to contemplate a lifestyle from an earlier century.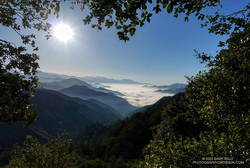 The descent of Bear Canyon is always adventurous in some way. Based on what I'd been seeing on other trails this year, I'd expected upper Bear Canyon to be a mess. I had braced myself for downed trees, washouts, and overgrown, hard-to-follow sections of trail.
But just a few minutes below Tom Sloane Saddle, a tree blocking the trail had been cleared, and the saw cuts were fresh! As I worked down the trail, I was excited to find more trailwork had been done. Branches or trees that had fallen across the trail had been cut. Some overgrown sections of trail had been trimmed. One washed-out section of trail looked like it had just been repaired. Someone had even trimmed a little of the poison oak that is so common along the trail.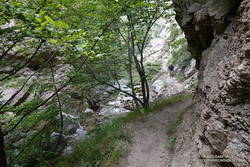 As I discovered when I encountered them lower in the canyon, the Bear Canyon Trail Crew had been hard at work, and they were working in the canyon again today!
The last time I was in Bear Canyon (April 2021), the creek had been nearly dry. This year there was plenty of water and plenty of stream crossings. Unlike several recent runs, I had my poles and was able to keep my shoes and socks mostly dry.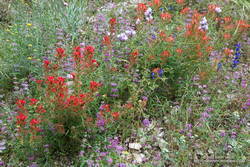 I had debated whether to do this loop on Memorial Day Weekend. It passes through Switzer's Picnic Area, one of the most popular day-use areas in Angeles National Forest. Many visiting Switzer's do the hike down the Gabrielino Trail to see Switzer Falls, and many of those continue down the Bear Canyon Trail to the area below the falls.
Today, the two-mile stretch from below the falls to Switzer's was as busy as expected. One issue I hadn't anticipated was that some stream crossings were backed up like the Hillary Step on Everest. Other than wading, there was usually only one "dry" route across the stream. At one busy crossing, a hiker — clutching a dog under each arm — deftly balanced across a sequence of slippery rocks and branches, keeping his and his charge's feet dry.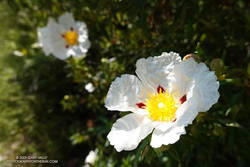 Once past Switzer's, things returned to normal. From Switzer's, it's about 4.5 miles up to Red Box, with an elevation gain of about 1350′. I had been on this section of the Gabrielino Trail about a month before and was curious to see if a mass of fallen trees blocking the trail had been removed.
The trees still needed to be cleared — Forest Service rules require a qualified sawyer to do that kind of work — BUT the remaining 2.5 miles of trail to Red Box were being trimmed and cleared by several dozen members of the Mt. Wilson Bicycling Association. I wondered why I wasn't seeing any mountain bikers on the trail — they were all working on it!
Here's an interactive, 3D terrain view of the Red Box – Bear Canyon – Switzer's Loop. The map can be zoomed, tilted, rotated, and panned. To change the view, use the control on the upper right side of the screen. Track and placename locations are approximate and subject to errors.
Some related posts: Bear Canyon Loop – 2021, Red Box – Bear Canyon Loop Plus Brown Mountain, Bear Canyon Loop Plus Strawberry Peak