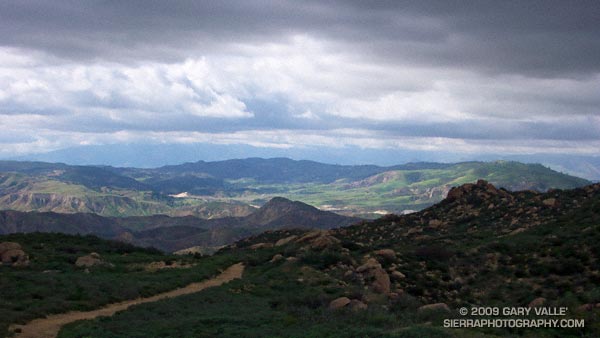 Brrr… I picked up the pace — even with long sleeves it was COLD on Rocky Peak Road. Another in a series of blustery April systems was stirring up the weather in Southern California. Thickening clouds spritzed rain, and a belligerent wind told me in laughing gusts that I could not run fast enough to stay warm.
Occasionally a patch of sun would find its way through the clouds, briefly warm and encouraging. I needed only  to think of the 100 degree days ahead to appreciate the chilly temps.
Another cool system is forecast to move through Southern California on Friday, bringing with it a chance of rain — and more great running weather. Easter weekend should be spectacular!
Some related posts: Simi Valley from Rocky Peak, San Fernando Valley from Rocky Peak