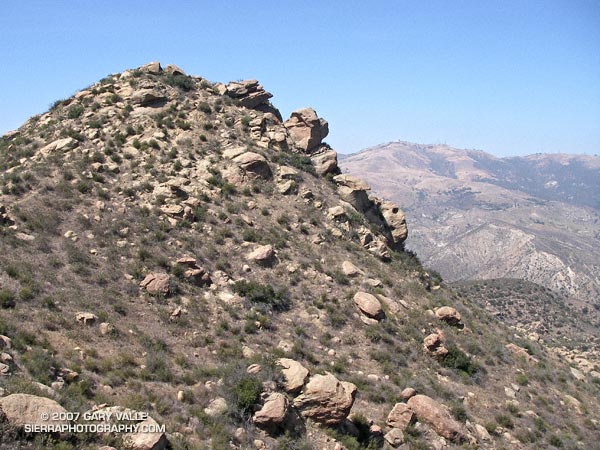 Each year, thousands hike, ride or run the 2.3 miles up Rocky Peak fire road to a high point with a nice view of Simi Valley. This is near the point marked "ROAD" in this overview photo. Many turn around here, but some continue along the main road to the Johnson Trail, Chumash Trail, Fossil Point, or beyond.
Another option is to follow a spur trail that branches off the main road at the high point about a quarter-mile to an airy overlook. From this viewpoint you can see the San Fernando Valley and surrounding mountains, and trace your route through Rocky Peak Park's unique sandstone formations.
The overlook marks the end of the "easy" trail and the beginning of a rough, rudimentary trail that leads east-northeast through large boulders and outcrops to the summit of the Rocky Peak (2714′).
The summit of Rocky Peak is one of the points that defines the border between Los Angeles and Ventura counties. Last year, I was surprised to find evidence that a coyote had recently visited this summit!
Here's a Google Earth image and Google Earth KMZ file of a GPS trace of my route to the summit.
Some related posts: San Fernando Valley from Rocky Peak, Rainy Morning on Rocky Peak Road.