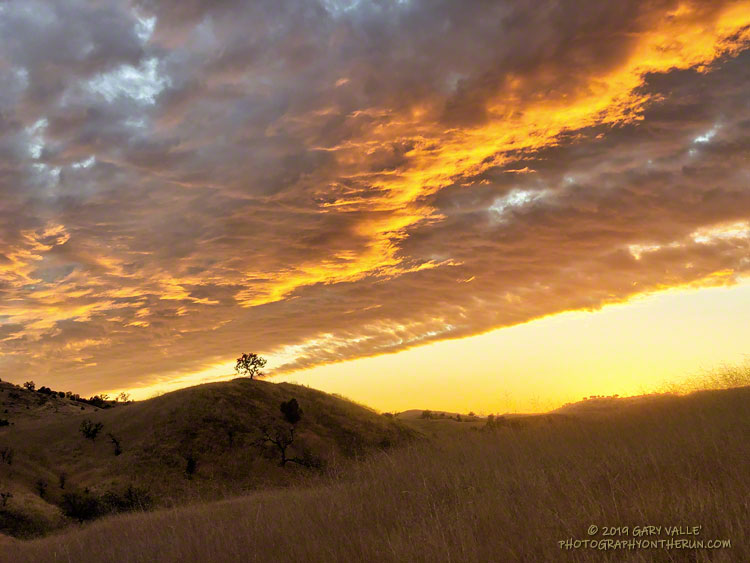 This time of year, I'm often "racing the sun" on my afternoon runs. Especially on longer runs, when the additional miles quickly consume any remaining daylight. There are benefits. Colorful sunsets are just one of them.
Tuesday's run was one of those longer runs — from the Victory Trailhead of Upper Las Virgenes Canyon Open Space Preserve (Ahmanson Ranch) to Cheeseboro Canyon and back. One of the reasons for doing this particular run was to follow up on the reemergence of water in upper Las Virgenes Creek. As Fall has progressed, there has been a notable increase in the size and number of pools, and the amount of water in the creek. I've observed this in the Fall before, except during periods of drought.
This comparison shows a crossing of upper Las Virgenes Creek about one-third mile north of the junction of Las Virgenes Canyon and East Las Virgenes Canyon. It shows the intriguing reemergence of water in this reach of the creek, despite a dry Summer, and — as of Tuesday — meager Autumn rainfall. The increase in water in the reach seems to have resulted from seasonal reductions in daylight, temperature, evaporation, plant transpiration, and other factors.
Update October 22, 2019. A run over to upper Las Virgenes Creek supported the 0.46 inch of rain reported by the Cheeseboro RAWS on October 20. The ground appeared to have absorbed more rain in the Las Virgenes Canyon area, compared to the area near the Victory Trailhead. It also looked like the amount of water in the creek bed had increased.
Update October 21, 2019. The Cheeseboro RAWS, on the ridge just west of upper Las Virgenes Creek, recorded 0.46 inch of rain on October 20, the day after this run. Today, I'll be running out that way again to see  how the rain affected the creek.
Related post: Upper Las Virgenes Creek Still Flowing in Mid-July