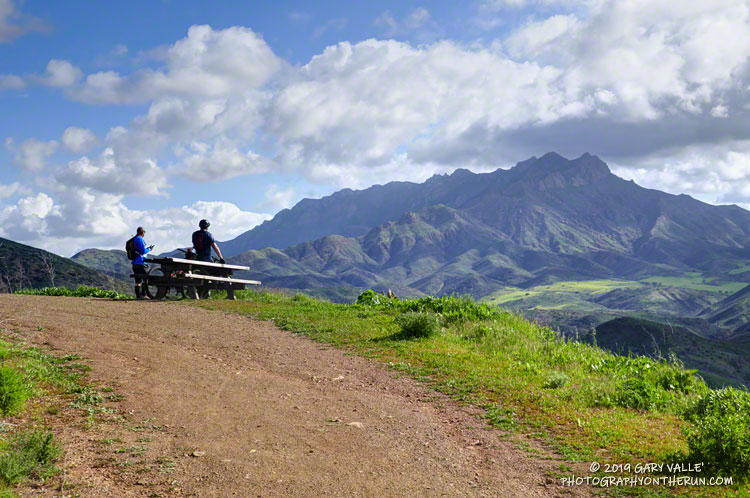 The Ray Miller Trailhead in Pt. Mugu State Park marks the western end of the Backbone Trail, a 68-mile scenic trail along the spine of the Santa Monica Mountains. The Ray Miller Trail's long, winding descent into La Jolla Canyon is a favorite of runners and hikers, and a fitting end to those traversing the BBT from east to west.
My run this morning was to the Ray Miller Trailhead (and back) from Satwiwa, starting at the Wendy Drive trailhead in Newbury Park. The Wendy Drive Trailhead is very popular and is the starting point for many good runs, hikes and rides. To get an idea of the route options, see the detailed trail maps on the Pt. Mugu State Park page of VenturaCountryTrails.org.
Today I was looking to do a longer run, so didn't take the usual route. On the way down Big Sycamore Canyon, I skipped the turns at Wood Canyon (Hell Hill), Wood Canyon Vista Trail (BBT) and Fireline Trail and at Overlook Fire Road, some eight miles into the run, finally headed uphill.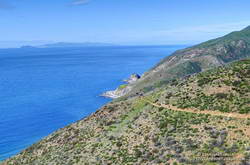 The top of the Ray Miller Trail is a stout 2.5 -mile climb from the bottom of Overlook Fire Road. Along the way there were excellent views of Sycamore Canyon, Serrano Valley and Boney Mountain.
About a half-mile down the Ray Miller Trail there is a popular overlook of the coast. The day was clear and there were stunning views of the Pacific and the Channel Islands. Brushed by whispers of wind, the cerulean blue Pacific filled my view for much of the descent to the parking lot.
It was an odd feeling to run down to the parking lot with runners who were cheerfully finishing their morning run, knowing that I had many more miles to go. After a quick stop at the water spigot, I turned, and sighed, and took the first steps back up the hill and toward Satwiwa.
Here are a few photos taken along the way.
Related post: Ray Miller Training Run