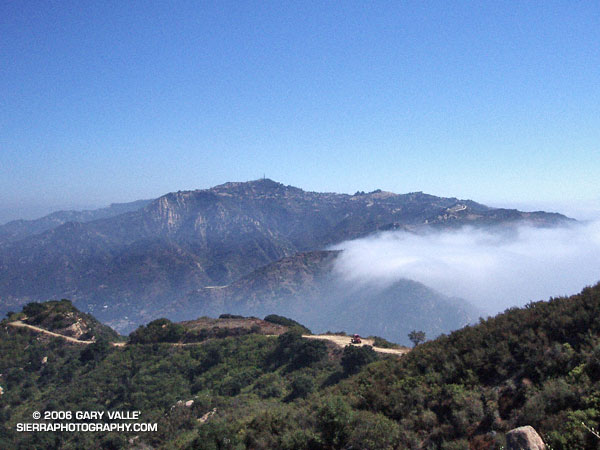 Saddle Peak from BackBone Trail on Bulldog Loop
Was up early, hoping to beat the heat and do a local run. It looked as though thick high clouds would keep temps down for a while, so several good runs were a possibility. After some debate, I decided on an out and back run to Saddle Peak.
My usual route starts at Piuma Rd. & Malibu Canyon, and follows the Backbone Trail approximately 6.5 miles to a short spur trail which leads to the actual summits of Saddle Peak. Much of the route used to part of the Bulldog 50K, and can be combined with the Bulldog Loop to do a self-supported 27.5 mile run. Here's a Google Earth image of a GPS trace of both routes.
While both the Bulldog and Saddle Peak routes have great views, are about the same length, and have similar elevation gains, there is one significant difference. Except for a short, 0.3 mile stretch along Piuma Rd., all of the Saddle Peak route is on single track trail.
The trail covers a variety of terrain and habitats. Some sections are lush and shaded, with bay trees, moss-covered rocks and several species of ferns. Other sections are rough and exposed, and can be brutally hot. Not far from where the trail tops out, it passes through a unique area of steeply inclined sandstone slabs.
(Photograph of Saddle Peak is from a Bulldog Loop run on October 2, 2005.)