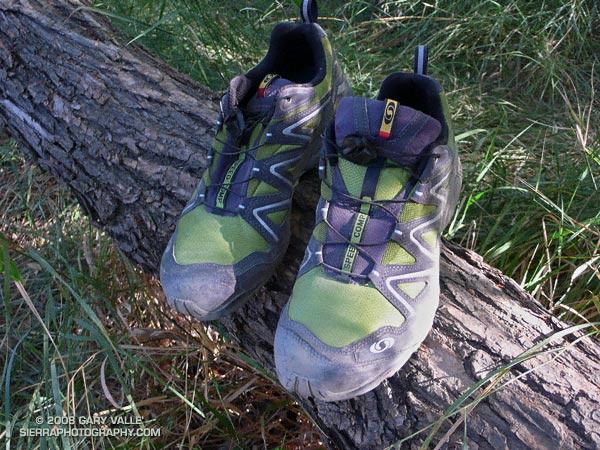 A sib of the ultralight SpeedCross 2, the Salomon SpeedComp trail running shoe trades the "snow and mud rated" lug sole of the SpeedCross 2 for a high traction tread reminiscent of a low profile, high performance tire. The result is a fast, lightweight shoe that should perform well on most trails and in a variety of conditions.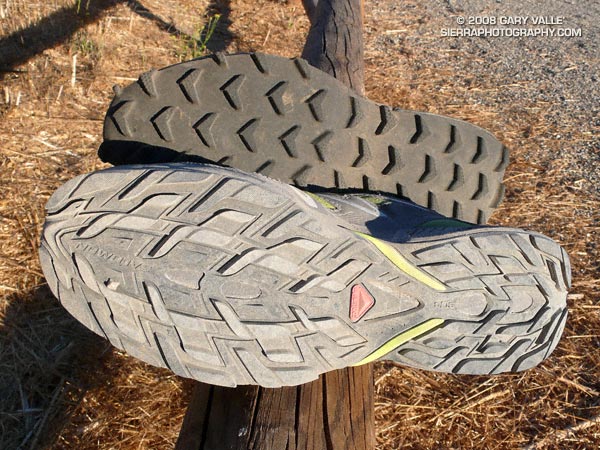 Mine arrived yesterday and I took them out for a 7 mile spin at Ahmanson Ranch. There were no surprises — the SpeedComp ran very similar to the SpeedCross 2, with good shock absorption and cushioning for such a lightweight shoe.
In addition to the outsole tread, there are a few other differences in design. The toe cap of the SpeedComp extends further back along the welt, and the sole wraps up over the sides of the cap, providing additional protection on rocky trails. A heel pull-tab has also been added.
My pair of SpeedComps (US 9.0) weighed in at a light 22.6 oz.
Update 05/29/09. In rotation with two pairs of XT Wings, and a pair of Adidas Response Trail 15s, I've now logged 235 miles on the Speedcomps, and have not changed my opinion of the shoe. I used the Speedcomps in the Boney Mountain Half Marathon, Bandit 30K, and Malibu Creek Challenge 22K, with excellent results — two firsts and a second in my age class.
Update 01/29/09. In rotation with my other shoes, I've logged 150 miles in the Speedcomps now. I've used them on a variety of trails and terrain, and am very happy with the shoe.
Update 09/21/08. Did the 14 mile Bulldog Loop in the SpeedComps today. This course is mostly ungroomed dirt road, but there is also some rocky single track, a section on exposed sandstone, and even a little pavement. The SpeedComp was comfortable, nimble, and it's traction on the rocky sections was impressive.
Related post: Salomon SpeedCross 2 & adidas Response Trail 14