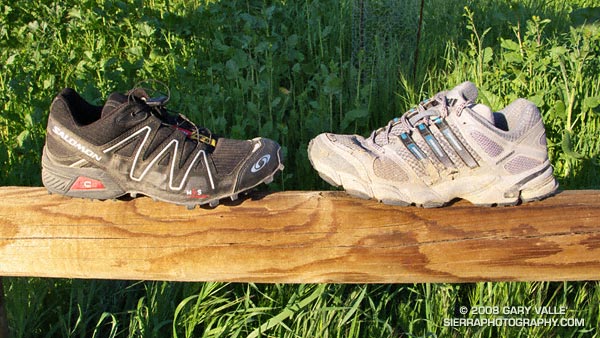 Ounces count when you're fighting gravity — in your pack, on your body, and especially on your feet.
The Salomon SpeedCross 2 (left) and adidas Response Trail 14 are my two lightest trail running shoes. My Response Trail 14's weigh 24.2 oz./pair (US 9.5), and the SpeedCross 2's weigh 21.3 oz./pair (US 9.0).
In round numbers a runner takes about 5,000 strides an hour. Even on smooth, level pavement there is significant effort involved in taking those 5,000 strides. But add to the mix the irregular surfaces and ups and downs of trail running, and the effort required increases.
Every time a trail runner speeds up or slow down, or lifts a foot to clear a rock, or ascend a trail, additional effort is required. The heavier the shoe, the higher the energy cost of all these speed changes and gait adjustments. Imagine what it would feel like to run a technical trail in a 5 lb. pair of shoes!
But there is more to designing a trail running shoe than just reducing the weight. A drastic reduction in weight might also reduce durability, cushioning, support, or other desirable characteristics. A shoe that falls apart, or does not provide adequate cushioning or support isn't of much use, even if it is feather light.
I've run in the Response Trail 14's for several months and the SpeedCross 2's about a month. Both are comfortable, seem to have adequate support and stability, and feel good under foot on dirt roads and most hiking trails.
There are some differences in the two designs. The SpeedCross 2 is exceptionally light, with good cushioning. The knobby 'Winter Contragrip' waffle tread provides good traction in soft conditions and appears to contribute to the shoe's cushioning and shock adsorption. Some might find the tread too aggressive in less inclement conditions.
Update 03/31/08. Yesterday I used the Salomon SpeedCross 2 on a demanding 19 mile trail run with 4000 ft. elevation gain/loss. The run was primarily on single track trail, but also included some dirt and paved road. Some of the single track was very technical and rocky. On the more technical sections of trail the SpeedCross 2 felt very light and agile.
The Response Trail 14 seems to be exceptionally well-cushioned. The shoe runs a little more like a road shoe than most of my other trail shoes. That isn't a criticism — I've used the shoe on many trails, and used it a couple of months ago in a trail half marathon that featured a mix of pavement, dirt road and single track trail.
Every runner's shoe requirements are different, and these requirements can change from day to day, and run to run, depending upon the  trail conditions, the terrain, the length of the run, your fitness, where you are in your training cycle, and a host of other factors. I tend to use the SpeedCross 2's and Response Trail 14's for short and medium length runs, and my XT Wings for longer runs.
I'm always counting ounces — a lighter shoe, a lighter pack, a lighter rain shell, a lighter camera — it all adds up in my battle against gravity.