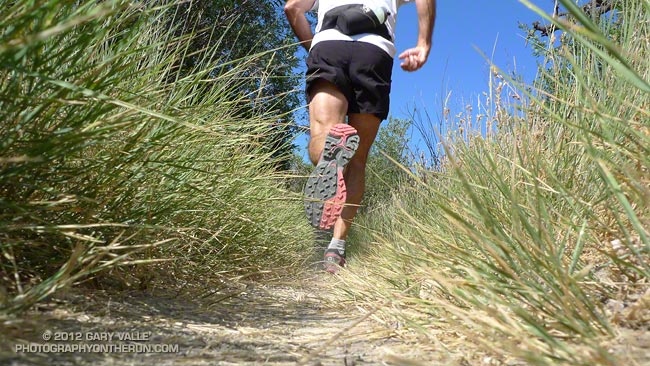 Somehow I've managed to avoid reading any hype, advertising or reviews related to the Salomon XT Wings 3. To date I've put about 60 miles on my first pair — including a couple of 16-20 mile runs in the San Gabriel Mountains. Following are my first impressions of this $140 shoe.
Altogether I've run in about 20 pairs of XT Wings and XT Wings 2. I run almost exclusively on trails. Racing is not my focus, but I run a few ultras each year, as well as several 15K-30K races. Most weekends I do a longer run in the mountains. I have a D-width, neutral, high-arched foot. My foot strike varies, but tends to be more mid-foot than on the heel.
Wow, was I surprised when I pulled these shoes out of the box! Rather than a tweaked version of the XT Wings 2, the XT Wings 3 looked like a completely new shoe — kind of a blend of the Salomon SpeedComp, SpeedCross and XT Wings 2. My overall impression was one of increased precision, performance and versatility.
After weighing the shoes (25 oz/pair – size 9), I compared the outsoles. Big changes here. Gone is the wider heel and platform that has characterized the XT Wings line. The sole now sports chevron-shaped lugs, similar to the SpeedCross. In my opinion this is a more versatile design, and traction should be improved on a variety of surfaces. The lugs should also help forefoot cushioning. I also noted the density of the heel strike pad appears to have been increased.
Twisting the shoe along its length, the XT Wings 3 appeared to be stiffer torsionally. There's a new toe cap, and since I've already kicked a couple of rocks, I can attest that it is more protective than earlier versions. Another change is the heel cup is now more anatomically shaped.
The fit of the XT Wings 3 is comfortable, but more snug than the XT Wings 2. Perhaps because of my high-arched foot, the reduced mid and forefoot volume in the XT Wings 3 is more evident. It fits me more like the SpeedComp or SpeedCross. I have to carefully adjust the speed-lacing to ensure there is not too much pressure on the top of my foot. The difference in the volume is particularly noticeable after running in the XT Wings 3 several days and then switching back to the XT Wings 2.
So how did the XT Wings 3 run? Very well! Other than having to carefully adjust the speed-lacing, I had no issues with the shoe. Cushioning, comfort, traction and protection all seemed good. It's difficult to evaluate in just a few runs, but the more narrow platform of the XT Wings 3 may make it a little less roll resistant on uneven surfaces than the XT Wings 2.
There are always trade-offs in design, and runners are VERY particular about their shoes. One shoe cannot be ideal for all runs and all runners. I have to put more miles on XT Wings 3 to see where it works best for me. Based on my initial impressions, I think I would tend to use the XT Wings 3 on faster paced runs where precision and performance are important. I still have several pairs of the XT Wings 2, and the longer the run, the more likely I will be to use the XT Wings 2 — a shoe that has worked exceedingly well for me.
Related posts: XT Wings, XT Wings 2