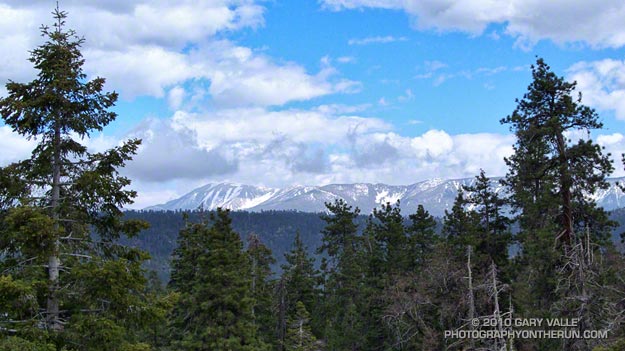 Was up at Big Bear Lake this weekend for the Holcomb Valley 33 mile trail run. (More on that in a later post.) Got up to the lake around 2:00 in the afternoon, and on such a fantastic day couldn't just sit around.
First things first, I had to check out the trail on which the race would begin and end, the Cougar Crest Trail. The trail looked good. It wasn't too steep, and climbed up through an open forest of juniper, piñon pine, and Jeffrey pine. In hot weather the south facing trail would cook, but with morning temps in the 40's and afternoon temps around 70, that wouldn't be an issue. At about the mile mark the trail reached a level spot, and switchbacked left. It was a good point to turn around — I'd see the rest tomorrow.
After a quick side trip to Holcomb Valley to check out another part of the course, I headed over to the Gray's Peak trailhead. It looked like this trail would have nice views of Big Bear Lake, and all the snow on north facing slopes of the San Bernardino Mountains.
With every switchback, this pretty trail tempted me higher and higher. I was torn between getting the scenic shot that seemed to be just around the next corner, and not overdoing it before the race. After a number of these switchbacks, I had to call it quits. I scrambled to a highpoint and took the photo above. Here's a larger image that shows the peaks a little more clearly.
The view framed by the trees extends from San Gorgonio Mountain (11,499′) on the left, to San Bernardino Mountain (10,649′) on the right. The peak just right of center, with the large snowfields, is San Bernardino East Peak (10,691′). One of my favorite trail runs climbs from Mill Creek on the other side of the range to San Bernardino East Peak, and then follows the crest to the summit of Mt. San Gorgonio. About 11 miles of the loop course is above 10,000′.
Related post: San Gorgonio High Line 2009