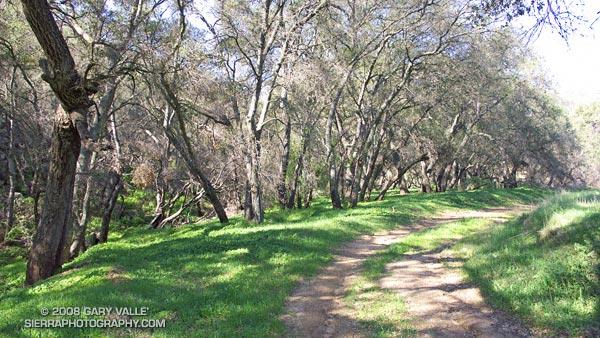 When the rainy season turns wet and the grasses green, all routes to Simi Peak are scenic, but the varied trails and terrain, and the wilderness feel of the more remote sections of this 21.5 mile run makes it one of my local favorites.
It is a longer variation of the route described in the post Upper Las Virgenes Canyon Backcountry. The run starts at the Victory (or Vanowen, or Las Virgenes) trailhead of Upper Las Virgenes Canyon Open Space Preserve and explores the headwaters of Las Virgenes Creek. At the junction of the power line service road and "backcountry" trail, instead of turning south up the power line service road, this option works west over to Albertson Motorway fire road, and on to China Flat and Simi Peak.
Here's a Google Earth image and Google Earth KMZ file of a GPS trace of the route.